EU ministers on diaspora policies meet in Bucharest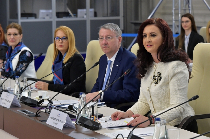 EU Ministers for the Diaspora met on Monday in Bucharest for the first gathering of its kind at EU level.
A few million Romanians left the country after the anti-communist revolution of 1989, some to study, others to work or settle down temporarily or definitively abroad. Italy and Spain now host the largest communities of Romanians, as many Romanian citizens came to these countries seeking better-paid jobs. Other favourite destinations for Romanians were Germany, Great Britain, Austria, France, Belgium, the Nordic countries and the United States. Arab countries also present equally appealing opportunities for some Romanians. This is why Romania chose Diaspora as a topic for debate during its presidency of the Council of the European Union.
On Monday, Bucharest played host to a meeting of Ministers and State Secretaries for Diaspora, the first such event organised by a country holding the presidency of the Council of the EU. Representatives of 17 member states looked at the ways by which European states establish economic and cultural cooperation relations with the Diaspora, help support the linguistic and cultural development of the Diaspora and create policies that have led to the rapid integration of members of the Diaspora. Talks focused on the free movement of labour, migration and integration, human trafficking and strategies to support the process of returning to the countries of origin. In this context, the Minister for Romanians Worldwide Natalia Intotero said the following:
"We've had talks on the exchange of best practices, projects that should help us continue to support the preservation of national identity by each state among its Diaspora. I've noticed an interest from the majority of member states to develop policies and programmes to help anyone wanting to return home to be able to do so."
Attending the informal meeting in Bucharest, Romania's Minister Delegate for European Affairs, George Ciamba, underlined the fact that fostering the rights and interests of all citizens, irrespective of the place in which they choose to live, study or work should be a priority of EU Governments. The Romanian official recalled that Romania's Presidency of the Council of the EU managed to reach a preliminary agreement with the European Parliament on the creation of the European Labour Authority, a new body that will support member states in implementing EU legislation in the areas of labour mobility across the Union and social security coordination.
www.rri.ro
Publicat: 2019-03-19 13:08:00
Vizualizari: 425
Tipareste