The Danube Delta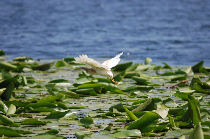 River Danube springs from the Black Forest Mountains in Germany and its 2,860 kilometer-long journey ends in Romania
At the very point where the Danube flows into the Black Sea, the river has created a delta, a one-of-a-kind spot because of its beauty.
The Danube Delta's surface area is continually expanding because of the mud carried by the waters, thus forming a network of waterways, lakes, reed-covered islands, forests, pastures and sand dunes.
Today's destination, the Danube Delta, is the second largest in Europe being at the same time an area of unmatched beauty. It has been included on UNESCO's heritage list since 1991.
Cătălin Țibuleac is president of the Danube Delta Tourist Destination Management Association. He told us the entire area is superb.
Catalin Tibuleac: "It targets a wide category of tourists who would like to reach Tulcea County as a tourist destination. We take pride in the local cuisine, in crafts, the inhabitants' entire story being in perfect harmony with the nature here and its biodiversity. There are 14 minority groups here living perfectly together, each group with its own traditions and customs. Whenever we speak about the Danube Delta, we speak about Europe's bio garden. We have been trying to preserve it like that, promoting a responsible tourism. Last year we launched a programme entitled 'Christmas and New Year's Eve in the Danube Delta'. The old-rite holidays of the two minority groups that we have here, the Lippovan Russians and the Ukrainians, proved very successful. Whoever wants an unusual holiday for them is wholeheartedly welcomed in Tulcea County."
The Danube Delta is also famous for the local cuisine, Cătălin Țibuleac also told us.
Catalin Tibuleac: "Now we have local gastronomic points which have been recently authorized at government level and will be operational in 2019. There are family guest houses offering tourists traditional produce. Also, we have a series of events revolving around the fish thick soup there are also cultural events, such as the Anonimul Film festival, which will see its 16th edition in 2019. Another sought-after event is Enisala Fest, targeting rock and folk enthusiasts, but in a different setting. I am proud to say last year the number of tourists we had was around 77% greater than what we had the year before. Almost 20% of them were foreign tourists. Such an increase was possible thanks to a tourist product specifically targeting traditional tourism, based on multiculturalism, and in perfect harmony with nature."
Another tourist hotspot is Letea Forest, Romania's oldest nature reserve, which has been under scientific observation since 1930. In the Letea sand forest, actually in the place known as Omer's fountain, one of the country's oldest oak trees can be found. It is 500 or 600 years old, having a circumference of 4 meters, according to experts from the Danube Delta Eco-tourism Museum. Tourists can have access to these special places, by means of a floating hotel.
Marketing manager Andreea Diaconu has been bringing tourists to the Delta since 2001. She will now be telling us what a "floating hotel" means.
Andreea Diaconu: "This is actually a cruise ship, adjusted to reach these places in the delta, because there are some areas here where access can be more difficult. It is a floating hotel actually with six double rooms and two flats, which can accommodate at least 16 people. The rooms have the standard of a four-star hotel. It is a classification specifically created for floating hotels. They have the facilities of a hotel: private bathrooms, air conditioning satellite TV, a private restaurant, an outdoor beer garden and a beach beer garden. The hotel uses renewable energy with photovoltaic panels and a windmill. "
The good point of being on a floating hotel is that each morning, as we wake up, we find ourselves in a different place, so we can see a lot more places in the Delta than if we stayed in a guesthouse for instance; plus the bonus of a boat ride, Andreea Diaconu also told us.
Andreea Diaconu: "It is much more comfortable to be on board of a ship and be able to admire the entire scenery offered by the delta. We also collaborate with travel agents, but the easiest way is to have direct contact and personalize the desired package. We have tourists coming over especially for bird-watching, the large majority of them being foreign tourists. There is also the relaxation option, and then we personalize the package according to the places tourists want to reach. There are tourists who appreciate the Delta entirely, from both perspectives. There are ornithologists coming over, but there are also people who want to explore the places, whether they want to see the forest in Letea, or whether they want to get to Sulina, which is another fine point in our cruise. Everybody finds something to do in the Delta, even the fishermen."
For those who may have an interest in that, personalized routes are on offer. Speaking about that, here is the marketing manager of a floating hotel Andreea Diaconu once again.
Andreea Diaconu: "For instance, if they want to see the forest in Letea, we contact the people who are in charge of those routes. Those who stage such routes have in turn special safari cars that can take people to the forest, the Caraorman sand dunes are visited, and also the wild horses. We had German, French, English tourists, but also people from South Africa. The latter's expectations were a little bit higher as, being poorly informed, they wanted to see crocodiles in the Danube delta. Their wish was amusing, yet they were fascinated with what they saw in the Delta. We even had a group of ornithologists who showed up at a time when, believe it or not, they ran into Flamingo birds. It was a special year when such bird species had made it as far as our Delta."
For a personalized offer, make sure you contact travel agents straight away, if you want to have a unique stay in the world's largest and most compact reed bed area, the Danube Delta.
www.rri.ro
Publicat: 2019-04-11 14:55:00
Vizualizari: 620
Tipareste