Newborn Health in Romania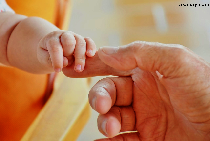 In Romania, the neonatal mortality rate is twice the European average
The proper equipping of neonatal clinics is essential for the good management of premature birth cases. In Romania, the neonatal mortality rate is twice the European average. This rate is a good indicator of the gap between Romania and the more developed European countries. In Romania's poor counties, the neonatal mortality rate is double the one in the big cities, where neonatal clinics have modern medical equipment, according to a report by Salvati Copiii Association. Gabriela Alexandrescu, executive president of Salvati Copiii, tells us more about it:
Gabriela Alexandrescu: "A national equipping program has not been implemented in Romania since 2007. Given the high number of premature birth cases, the equipment was intensely used. Moreover, the number of beds in neonatal ICUs is half the one needed. Consequently, many departments received more newborns than they were able to accommodate. The lack of equipment able to provide vital support was one of the causes. Another cause is the education of mothers, the number of visits to general practitioners and scarce pregnancy monitoring. Almost half of the pregnancies in Romania are not monitored by a physician. A lot of women give birth in maternity hospitals that do not have the equipment, the expertise and the legal right to care for newborns weighing less than one and a half kilos."
As for the causes of child mortality in Romania, Gabriela Alexandrescu says they are social and cultural, but are also related to the lack of medical services in the less developed regions of Romania.
Gabriela Alexandrescu: "It is a cluster of factors: education, the lack of basic services at the level of communities, especially in rural communities, where there is a major shortage of family physicians, a shortage of check-up procedures for pregnant women, many women's impossibility to travel to town to have their pregnancy tests. This has created a pretty difficult situation for families in Romania. The reported infant mortality rate has doubled, we also have discrepancies across the country, between various counties. We have more than 23 counties where the reported mortality rate lies above the rate at national level, with the counties of Botosani and Calarasi sadly being at the top of the list. Mortality rates for these counties are 3 times higher than in Cluj or Bucharest."
In 2017, the child mortality rate stood at 7.2 per one thousand live births, with premature birth being the main cause of death. Salvati Copiii Association got actively involved in the efforts to properly supply medical units with the required equipment.
Gabriela Alexandrescu: "We at Salvatii Copiii Association have been trying to make up for that kind of shortage. In recent years, since 2012, we have donated more than 515 pieces of equipment to 88 maternity hospitals, for 42,000 newborns. We have invested more than 4 million Euros, which we have received from corporate and individual donors. Everything was done with the support of people from Romania. Because we have seen and understood that, rather than waiting for the ministry and the authorities to earmark the sums needed, it was in our power to save our children. If we are unable to ensure our children's right to live, what else is there worth talking about?"
In Romania, there are many cases of congenital heart defects among newborns. Many children are born with such problems and the only hospital where they can have treatment immediately after they were born is the Institute of Cardiovascular Diseases and Transplant in Targu Mures. The medical staff there works on a 24/7 basis, yet their effort is not enough. Out of the around 1,000 heart surgeries per year that are necessary, the hospital in Targu Mures only conducts around 230. Meanwhile, other doctors face equipment shortages. Here is the head of Neonatal Clinic of the University Emergency Hospital in Bucharest, Adriana Dan, with details:
Adriana Dan: "Neonatal hospitals in Romania are rated according to levels of competence and facilities. There are relatively few 3rd-degree maternities, the best-equipped and best-prepared in terms of human resources. There are around twenty such units in Romania. They are capable of providing care in the premature births with the greatest needs. We run with limited, obsolete and overused equipment. In order for premature babies to survive, it is essential that we have incubators, ventilators, vital functions monitoring equipment, high-quality single-use consumables to prevent the multiple complications that infants with weak immune systems may have."
We also asked Adriana Dan what neonatologists feel when they succeed in their profession in spite of the shortcomings in the healthcare system:
Adriana Dan: "On one hand, we are happy that we can help a frail soul and a family that has so much wanted and expected this child. On the other hand, it is a matter of professional pride, when we see that what we do is important. At our annual meetings on November 17, when World Prematurity Day is celebrated, we get to meet the children we have saved and who are two, five years old or have even reached school age. It is such a joy to be able to know that part of what a child is has been possible thanks to you. It is something special."
This kind of satisfaction will most likely be only felt by a physician who saves the life of a newborn. But for more such performances, Romania needs state-of-the art neonatal hospitals. In 2019, "Salvati Copiii" Romania is purchasing equipment for 49 maternity hospitals.
(translated by: Elena Enache, Eugen Nasta)
www.rri.ro
Publicat: 2019-04-17 13:27:00
Vizualizari: 1204
Tipareste