Lamb dishes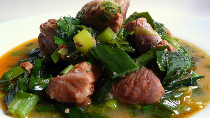 Lamb dishes are traditionally prepared on Easter in Romania
Welcome to the Cooking Show. Today we bring you two of the most popular lamb dishes traditionally prepared in Romania: lamb stew with spring onion and garlic and lamb in yogurt souce. We start with the lamb stew, which is known as 'stufat' in Romanian. A delicate spring lamb stew, this is very popular especially in the period right after Easter in Romania and all over the Balkans. You can make it with either leg of lamb or lamb ribs, about a kilo's worth. It doesn't take much to make the recipe. All you need on top of that is five tomatoes, about 15 sprigs of spring onion and another 15 of green spring garlic. Cut the onion and garlic into segments about an inch long.
In a pan heat some oil, and cook the meat on all sides at low heat, turning it periodically. Set the meat aside, then, in the same oil, sweat the pieces of onion and garlic. Also, cut the tomatoes into little cubes. Now take a covered deep oven dish and mix inside the lamb, onions and garlic, as well as the tomatoes. In some versions, a bit of flour is added to the mixture to thicken the sauce. Top with a bit of water, then set in the oven at medium heat for about half an hour. Take out the vessel and throw in a glass of wine, as well as salt and pepper to taste, then leave to cook in the oven for about another quarter of an hour. It is a recipe as simple as it is delicious.
There are various traditional recipes for cooking lamb, whether with tarragon and lemon in the Caransebes region, with rosemary and tomato sauce in Bihor, seasoned with thyme in Cluj, baked with cheese gravy like in Mehedinti county, or wrapped in pastry as in Cisnadie. Other Romanian householders choose to cook sour lamb soup with vegetables, spring onion lamb stew or minced lamb pie and entrails.
For our second lamb recipe, today, we picked a dish from Eastern Romania: lamb in yogurt sauce. Aside from lamb, you will need half a kilo of full-fat yogurt, one tablespoon of flour, 80 g of butter, one bunch of fresh cut dill, salt and pepper. Wash the lamb chops or fillets and portion them. Brown them in butter until they gain a deep golden brown crust. Add hot water or meat stock and let it simmer over low heat until the meat is nearly cooked. Meanwhile, expand the flour in yogurt and stir briskly, adding some of the melted fat from the pot and an extra two tablespoons of stock as an option. Add the dill, season with salt and pepper and pour the resulting mix over the lamb chops. Leave it to boil until the sauce reduces to the desired thickness. Serve with homemade bread, lettuce, radishes, spring onion or spring garlic. Enjoy!
www.rri.ro
Publicat: 2019-05-05 13:29:00
Vizualizari: 2257
Tipareste