Summer season on the Romanian Black Sea coast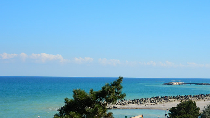 The summer season on the Romanian Black Sea Coast opened, as usually, on May 1.
The summer season on the Romanian Black Sea Coast opened, as usually, on May 1. According to the latest data available, a growing number of bookings are made from abroad, reaching around 7% of the total, although many of them are made by Romanians who live and work abroad. Still, the events organised in the seaside resorts, the fun in the local night clubs and the very low prices compared to other destinations are quite attractive to foreign tourists as well, particularly those from the UK, Spain, Italy and Israel. Corina Martin, the president of the Romanian Federation of Tourist Promotion Associations, has told us that new investment projects have been finalised for the 2019 season:
"These new projects include both hotels and extended accommodation facilities, as well as thousands of new holiday apartments. The latter have grown particularly popular over the past few years, and are actually an alternative for tourists who seek more comfort and more privacy than hotels can provide. They probably come to the seaside with larger families, with children and baby sitters, and they need this alternative. We also have all-inclusive resorts, developed particularly in the south of the Romanian Black Sea Coast, where many 4 and 5-star hotels have been built in recent years."
The selling points of the Romanian seaside are already well known. As many as 245 km of beaches with a deep layer of sand, a gradual increase of the water level, water temperature that may exceed 25 degrees Celsius in the summer, 10 to 12 hours of sunlight a day and roughly the same latitude as the more famous Venice and Nice make the Black Sea coast a rival for the Mediterranean resorts. And many of the events organised here already enjoy international fame. Here is Corina Martin, the president of the Romanian Federation of Tourist Promotion Associations with more details:
"There are obviously novelties in terms of events as well, but the highlight of the season remains NeverSea Festival, on July 4-7. It brings here tens of thousands of music fans not only from Romania, but also from Western Europe. The summer season started with the 25th edition of Sunwaves Festival. As many as 8,000 young foreign tourists attended this electronic music festival which is already a tradition. The list of events in seaside resorts is quite long, we will see what the individual clubs will organise, and also the companies that put together major general public events, including K1 galas, kickboxing galas, music festivals and fashion shows. Such events attract large numbers of people, especially in Mamaia, which is acknowledged as the capital of fun on the Romanian sea coast. Second in this respect comes Vama Veche, followed by Mamaia Nord-Navodari and Eforie, which are close to Constanta and have many accommodation facilities."
The number of foreign tourists on the Black Sea coast will be growing, Corina Martin also tells us:
"We have just finalised a project which is a novelty in Romania. With support from the Turkish national air line, we have brought to Romania representatives of 10 of the largest Turkish tour operators. Romania and Turkey are well connected, we've had 4 direct flights between Constanta and Istanbul for 5 years already. Japanese officials have also visited the Romanian seaside resorts, and our goal is to bring tourists from this market as well, by means of these flights to Constanta via Istanbul. Our target are tourists who seek exciting nightlife, entertainment, casinos, and so on. The Danube Delta, which we have also been promoting, is also of great interest. Apart from that, this summer we will continue to have direct flights from and to Tallinn, bringing Estonian tourists to Romania. These flights, operated by the Estonian national air line, were launched last year. Estonian tourists are very interested in packages that include multi-ethnic performances. English tourists also come here in large numbers, thanks to a direct flight connecting Constanta to London, 4 times a week. This is a very busy route, with about 95% occupancy rate. Many British men have their bachelor parties in the hotels and night clubs in Mamaia in particular."
Catalin Tibuleac, the president of the Danube Delta Tourist Management Association, says Dobrogea is increasingly popular among the tourists interested in atypical experiences:
"Those who are interested in a different kind of holiday on the Black Sea coast are well advised to come see the wild beaches in Sfantu Gheorghe and Sulina. Equally interesting is a trip to Macinului Mountains, the oldest mountains in Europe, with great routes for trekking and horseback riding. Tulcea County takes pride in as many as 16 ancient and medieval citadels, open to the public. We also recommend a tour of the local vineyards, the best known of which are Macin, Sarica Niculitel and Hamangia."
The Romanian Black Sea coast resorts cater for all tastes and budgets. Corina Martin, the head of the Romanian Federation of Tourist Promotion Associations, wraps up today's travel segment with an invitation:
"We are waiting for you at the seaside. On the Romanian Black Sea coast, prices are still very attractive, there are events for all tastes, all-inclusive resorts, direct flights to the Constanta Airport and easy transfer to any seaside hotel and to the rest of the country."
www.rri.ro
Publicat: 2019-05-09 13:03:00
Vizualizari: 1518
Tipareste