Remembering the victims of communism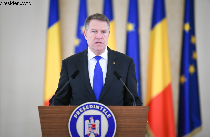 President Klaus Iohannis plans to declare 2019 the Year of Gratitude for the opponents of the former communist regime.
President Klaus Iohannis has signed a decree to decorate the Memorial of the Victims of Communism and Resistance in Sighet and the Memorial of the Revolution of 16-22 December Timisoara Association. The decision is intended to mark the 30th anniversary of the Romanian Revolution this year, "as appreciation and recognition for their important research into the phenomenon of totalitarianism and for the promotion of national and European values". Sighet and Timisoara, in the north-west and west, respectively, are essential landmarks on the map of communist terror. Founded, under the aegis of the Council of Europe, by the poet and dissident Ana Blandiana, the Memorial is located in a former prison where dozens of people were held and killed, including democrats, generals and church officials from the inter-war period. As for the association from Timisoara, it brings together many of those who, in December 1989, sparked the fire of the Revolution that led to the flight of dictator Nicolae Ceausescu.
President Klaus Iohannis has also announced plans to declare 2019 the Year of Gratitude, an announcement he will make on 20th of May, the date when the first free elections in post-communist Romania were held back in 1990. Klaus Iohannis:
"It's the year when I want us to show our gratitude for those who made possible the great change that took place in December 1989. More critical voices have asked me why, then, start in May? It's simple: I want to declare 2019 the Year of Gratitude, ending in December with a big celebration in honour of the 1989 Revolution and beginning when democratic vote began in Romania. The first free elections in Romania were held on 20th of May 1990."
The president's announcement has been hailed by many voices from the political scene, civil society and the media, but has also been severely criticised. Given that he has already announced plans to run for a second term, president Iohannis is accused of turning the homage to the anticommunist resistance into a campaign theme. A possible rival in the presidential race, Senate speaker Calin Popescu-Tariceanu says the initiative seeks to use for election purposes a number of emotional elements, "the ousting of communism, the sacrifice of the martyrs and the rediscovery of freedom". Leontin Iuhas, the son of Ceausescu's most famous opponent, Doina Cornea, who was himself arrested by the secret police (the Securitate), says he will not take part in the events held under the patronage of the president. Some commentators are disappointed that petty electoral considerations risk overshadow a tragic theme.
Instated, at the end of WWII by the occupying Soviet troops, the communist dictatorship filled Romania with camps and prisons where at least 600,000 people were interned in the space of fifty years according to historians. In 2006 in fact, Romania's previous president Traian Basescu issued an official declaration condemning the communist regime as criminal and illegitimate. (Trans: C. Mateescu)
www.rri.ro
Publicat: 2019-05-15 13:55:00
Vizualizari: 816
Tipareste