The Cooking Show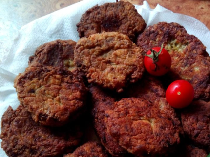 Meatballs and hamburgers
The International Burger Day was celebrated this week, actually on Tuesday, May 28th. The burger is a dish that has become very popular in Romania as well. We can also say it is the unique selling point of fast-food restaurants, and usually, a burger best goes with French fries. The burger is a typically American dish. However, it seems to have European roots, in fact in the German city of Hamburg, where its name has been derived from, under its form "Hamburger." As the German immigration in the US saw its upward trend, in the second half of the 19th century, a Hamburg-style steak was served in restaurants. Apart from the burger, the western part of Romania, actually the region of Banat, imported a similar dish from Serbia, known as plescavita. As popular as the burger, the plescavita is prepared using pork.
Meatballs have been facing cut-throat competition in the last 25 years. However, they are still Romanians' most favorite dishes. Meatballs are prepared using minced meat or vegetables. They are round-shaped, flat or elongated, and are fried in lard, using a frying pan or a cast-iron pot. The round-shaped ones are the meatballs proper, but if they are small, they are known as the little meatballs. If they are flat of elongated, they are known as meat croquettes. The Romanian word for meatball is chiftea. It comes from the Turkish word Kofte. Quite unlike its Turkish ancestor, however, where lamb, mutton or beef are used, in Romania, pork or even fish are used, mainly in the Danube area, or the Danube Delta.
The pork little meatballs are easy to prepare. We need a kilo of pork, a couple of bread slices, a garlic head, a bunch of parsley, one bunch of dill, oil, pepper and salt. Dip the bread slices in water, and then squeeze the water out of the bread. Put them through the meat grinder, together with the meat. Peel and grind the garlic, then mix it into the minced meat, the bread, a fresh egg, the parsley and the dill, finely-cut. Spice everything with pepper and then salt to taste. As soon as the composition is homogenized, mold the round-shaped meatballs with a wet hand. Douse the meatballs in flour and then fry them in oil, over high heat.
Meatballs can be served as a starter, on a cold or a hot snack platter. When prepared with a sauce, they can be served as the main course, with mashed potatoes.
www.rri.ro
Publicat: 2019-06-07 13:21:00
Vizualizari: 316
Tipareste