Cooking show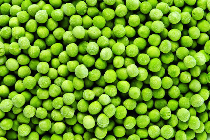 Peas-and-meat dishes
Fresh peas are some of the culinary temptations in late spring and early summer. Originating in Asia, the pea was cultivated by the Greeks and the Romans in southern Europe, and later it spread all across the continent. It appears the in the Romanian space, the peas are reported to have been cultivated as early as the 17th century. Today peas can be canned or frozen, so they can be used throughout the year to prepare a wide range of dishes, such as the vegetable soup or the vegetable hotchpotch, prepared with or without meat.
Alongside other vegetables, boiled and finely-cut, peas are used in the 'boeuf'/beef salad. Despite its French name, the aforementioned salad has its origins in Germany. With mayonnaise mixed into it, it was invented in the cuisines of Wallachian boyars.
Beef, potatoes, pickled cucumbers or bell peppers are among the ingredients used for the beef salad. Carrots, mayonnaise and peas are also used to prepare it. The vegetable hotchpotch is another dish typical for the summer season, as well as for autumn. To prepare it, peas are used, as well as potatoes, cabbage, carrots or beans. Also used for the vegetable hotchpotch are beans, garlic, pumpkins, celeriac, parsnip or parsley roots.
A peas-and-meat dish is extremely popular at this time of the year, with chicken, pork or beef used to prepare it. Two kilos of peas are used for half a kilo of pork or beef, one kilo of chicken, breast or legs. We also need tomato juice, thick tomato sauce or two very well-ripened tomatoes, two big onions and a bunch of dill. If the peas have been freshly plucked, then their peapods are pulpy. In this case, you can add some of the pods in the peas-and-meat dish you're cooking. Begin by boiling the meat, skimming it every now and then. If pork or beef is used, cut it into small cubes before boiling. There is also the option of frying the meat in a little bit of oil with the minced onion. Pour some water and allow to boil on low heat, but in this case, the dish will come out richer than usual. Debone the meat and in the same bowl, add the minced meat as well as the peas and the Julienne-cut onion. Allow everything to boil on low heat for about 30 minutes. Towards the end add the tomato juice, the thick tomato sauce or the finely-cut tomatoes; salt everything to taste. Remove the pot from the heat, but before that, add the finely-chopped dill, which will give a very special taste to the meat-and-peas dish.
Following the aforementioned recipe, you can also cook a peas- and-gizzard dish, using 2 kilos of peas for one kilo of gizzard.
www.rri.ro
Publicat: 2019-06-14 14:11:00
Vizualizari: 500
Tipareste