Zucchini Dishes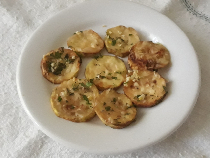 Zucchinis or courgettes can be cooked in various ways, and are perfect for both appetizers and main courses
Zucchinis or courgettes can be cooked in various ways, and are perfect for both appetizers and main courses. Depending on the dish we want to cook, we can chose them small, to bread fry them, or bigger, when we want to fill them with vegetables or minced meat.
Breaded zucchinis are easy to make. Take three average-sized zucchinis, wash them and remove the ends, then slice them transversally in half a centimeter pieces. Sprinkle some salt on them and let them dry a bit. Douse them in flour, removing the excess. In a separate dish, whisk an egg with a bit of pepper, and then dip the floured slices into the egg. Then, fry the slices in hot oil, in a pan, at medium heat. Take the slices out on a paper towel to drain the excess oil. Serve them hot or cold.
Zucchinis can also be used to make vegan meatballs. Peel them and cut them in halves. Boil in salted water and then dry the excess water. Mash them with a fork and mix them with a bit of flour and chopped fresh parsley. Take one spoonful of the mix and fry in hot oil.
Cut in slices, zucchinis can be baked in the oven. Alternate the layers of zucchinis with layers of cheese mixed with fresh dill.
Boiled or mashed, in combination with potatoes, celeriac and onion, they can turn into a fine cream soup. Boiled in water with a little bit of salt, having peeled and cubed them, the zucchinis can be mixed with grilled or baked aubergines in order to obtain aubergine salad, or can be mixed with a bit of cheese, in order to make meatballs for the cream or vegetable soup.
Meat-stuffed zucchinis can be served as a main course. To prepare them, you need eight zucchinis, half a kilo of minced pork, a cup of rice, two onions, a bunch of parsley, tomato juice, salt and pepper. Peel the zucchinis as finely as you can, and cut them in half, lengthwise. Remove the seeded core with the help of a spoon, but also try to leave as much of the zucchini's meat as you can. Prepare the stuffing mixing the minced meat with the rice and the finely-cut onion, then add the finely-chopped fresh parsley, pepper and salt to taste. Stuff the zucchinis and place them in a deep tray, side by side in a layer; add water and tomato juice in equal proportion, covering the zucchinis. Bring to a boil on low heat for about 20 minutes. Put the tray in the oven on low heat, long enough for the juice to thicken. Serve hot, with a little bit of yoghurt and sour cream poured on top of the stuffed zucchinis.
Enjoy!
www.rri.ro
Publicat: 2019-08-18 12:20:00
Vizualizari: 808
Tipareste