The Central Bank's yearly report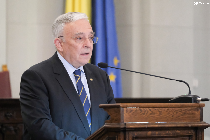 Romania has a robust economic growth, which continues to be chiefly based on consumption, says the Central Bank governor Mugur Isarescu
The European Commission has revised its forecasts on Romania's economic growth rate this year up to 4% pointing out to a rise in its GDP of up to 3.3%. However, there is a significant difference between the European Commission forecasts and those made by the authorities in Bucharest who drew up the country's budget based on a 5.5% growth.
According to the EU Executive's summer estimates, the growth rate is going to slow down next year to 3.7%. Public consumption remains the economy's main engine, spurred by the latest pay rises. Investment is also on the rise chiefly thanks to the recovery experienced by the construction sector, stimulated by fiscal measures.
The Commission believes inflation will stay around 4.2% this year and at 3.7% next year. Romania has a robust economic growth though it remains chiefly based on consumption, the country's central bank governor Mugur Isarescu says. During the presentation of the bank's annual report, Isarescu has explained how the economic growth is backed less by investment whereas the export's negative contribution has been significantly higher than in 2007.
Mugur Isarescu: "We have an economic growth or domestic absorption to be more correct, beyond what the economy can provide. Consumption has been boosted more than what the economy can provide and part of this growing demand, coming from pay rises, from stimulated consumption, could not be covered from the domestic output and was covered from imports instead. The consolidated budget was being kept under 3% but it's been the last time since 2015 when we are able to meet our structural deficit budget around the limit of 3%. Budget, salary and investment expenses are going in opposite directions."
Mugur Isarescu has declared himself satisfied with the low fluctuation of the national currency and also with the public debt, which remained at the same debt-to-GDP ratio, around 35%, being among Europe's lowest.
Mugur Isarescu: "In spite of negativistic forecasts, the debt rate didn't rise as against the GDP. Of course, the GDP's rapid growth has largely contributed to that. Public debt stands around 35% of GDP, one of the lowest in Europe and we'd better keep it at this ratio."
This performance has also been noticed by the rating agencies, and that could allow us to get bigger loans from the international market at relatively low costs, Mugur Isarescu has explained. The problem is how we use money and why we see this deficit increase. Referring to the inflation rate, the central bank governor said that after an increase in the first half of last year, towards the end of the year, it reached the level of 2017.
With a mandate of almost 30 years at the helm of the country's central bank governor, Mugur Isarescu says that Romania boasts a credible central bank stable at international level, which has obtained good financial results.
(translated by bill)
www.rri.ro
Publicat: 2019-07-11 14:32:00
Vizualizari: 486
Tipareste