A Romanian has compelled international recognition at Wimbledon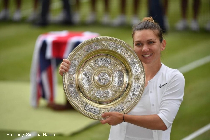 In a first for the Romanian tennis, Simona Halep, has reaped the Wimbledon trophy in the singles contest
'Queen of the Lawn Tennis', this is how Nadia Comaneci, multiple world, European and Olympic champion, has described her compatriot Simona Halep after the latter's triumph at Wimbledon.
We recall that Simona Halep, a former WTA number one, romped home on Saturday at Wimbledon, obtaining the first such performance in the history of Romanian tennis. Simona clinched a two set win against the US super-champion Serena Williams. Three-time Wimbledon singles champion John McEnroe told the BBC after the finals that lasted less than an hour: 'I am shocked'.
Another legend of the American tennis, Billie Jean King, congratulated Simona Halep describing the game as 'one of the most perfectly executed matches I have ever seen'. Former Romanian champion Ilie Nastase, who lost two Wimbledon finals, to US player Stan Smith in 1972 and to Bjorn Borg of Sweden in 1976 said that he felt vindicated by Simona's Wimbledon victory.
CNN headlined on its webpage: 'History was made after Simona Halep became the first Romanian to win Wimbledon when she defeated Serena Williams 6-2 6-2'. And the BBC wrote: 'The Romanian won 6-2 6-2 in front of an incredulous Centre Court, running after everything the American threw at her'.
The tournament organizers have congratulated Simona on Twitter for her magic show against Williams, while France Press remarked Simona's aggressive play. According to Reuters, 'Halep began the week halting American 15-year-old Coco Gauff's dream run and will end it at the Champions Ball after dismantling seven-times winner Williams 6-2 6-2 with an inspired display on Centre Court'. The new Wimbledon winner explains how she built her remarkable career.
Simona Halep: "I am happy with the way I played and the way I reacted to such an important event and such a great day. I fought, worked hard and suffered all these years and everything I did was to be as best on court as I possibly could. I reached a high level and feel I have a lot of confidence. I never thought I would be number one and win a Grand Slam but I had this dream and for it I worked day in and day out. As I have said many times, Romanians are gifted but don't trust themselves very much. We must begin to be better, believe in ourselves and look at things in a positive manner."
The 27 year old Romanian has thus secured her second Grand Slam after the one in Paris last year. Halep also played in two Grand Slam finals in Paris and another one in Australia. She hasn't so far made it to the finals of the US Open, but her great shape also recommends her as one of the favourites. The way she played on clay court, which the Romanian players aren't familiar with, shows that Simona has reached the level of great tennis champions.
(translated by bill)
www.rri.ro
Publicat: 2019-07-15 11:41:00
Vizualizari: 673
Tipareste