Romanians and the Diaspora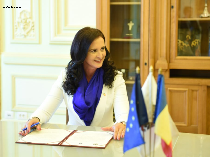 According to data communicated by 70 Romanian diplomatic missions, there are some 9,700,000 Romanians living abroad
For more than half a million Romanians, Romania's joining the EU translated into the possibility of leaving the country in search for a better life. The migration flow has continued, but the year 2007 remains the peak. Current statistics show that there are some 9,700,000 Romanians living abroad, with 5.6 million making up the Diaspora, and the rest living in historical communities. The figures have been calculated by the Ministry for Romanians Abroad, based on data provided by 70 Romanian diplomatic missions abroad, and have been presented by the line minister.
Minister Natalia Intotero has stressed, though, that the exact figure is hard to estimate, because many Romanians who leave the country do not establish their legal domicile in the host country. Most of the diaspora Romanians are living in Italy (more than 1 million), Germany (some 680,000), which is the preferred destination for the Romanian college-educated emigrants, and Spain (573,000).
According to minister Intotero, the reasons why Romanians choose to leave the country are low incomes, the lack of a decent job, the poor quality of the political class and corruption. The process is far from drawing to an end, because, in the past years, some 25% of the Romanians still living in the country have voiced their intention to settle abroad for good, if given the opportunity.
Natalia Intotero has announced that the ministry is preparing a bill on the socio-professional reinsertion of the Romanians who wish to come back home, a bill that is to be submitted to Parliament for approval in September. Also, the second phase of the national information campaign titled "Information at home! Safety around the world" starts in August. The campaign is aimed at informing Romanian citizens before making the decision to leave abroad, but also those who would like to come back home. Until then, another campaign will be run in the coming period, informing the citizens about the options they have to vote in November's presidential elections.
Here is minister Natalia Intotero:
"We have started consultations with the Romanians living abroad and I would like to thank all those who have sent proposals and suggestions about how to improve the voting legislation. In the coming period, together with colleagues from the Foreign Ministry, who are in charge of organizing the elections and the polling stations abroad, as well as with representatives of the Permanent Electoral Authority, we will participate in meetings with Romanians abroad, to tell them exactly how they can vote, what time they have for that, and how they can register for postal voting."
In another move, Romanian individuals and NGOs outside Romania have filled in questionnaires developed by the ministry, and the results show that they would like to see more unity inside the Romanian communities abroad, more possibilities to learn the Romanian language and a better relationship with the Romanian authorities.
www.rri.ro
Publicat: 2019-07-25 13:37:00
Vizualizari: 683
Tipareste