Warnings from the European Commission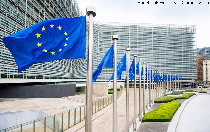 Romania has received notices from the European Commission for failing to meet some of the obligations it has as a member state
On Thursday, Romania received from the European Commission a formal notice letter regarding its failure to observe some of the obligations it has as a member state. Thus, the country is facing infringement procedures in fields such as monitoring pollution, financial services, the use of firearms, illegal migration and child protection.
The Commission has noticed that the modifications brought to the Energy Law have maintained the obligation to sell natural gas with priority on the Romanian market, which violates EU law and creates unjustified barriers to gas exports from Romania. Bucharest has two months to respond to the arguments put forward by the Commission. Otherwise, the Commission may decide to bring the matter before the Court of Justice of the EU.
A similar action can be undertaken also if Romania does not get in line with the EU rules on motor insurance. The Commission believes that the national legislation in question, which obliges insurers to issue, for certain categories of vehicles, a policy valid only on Romanian territory, is contrary to the Motor Insurance Directive, which requires that third-party motor liability insurance policies cover the whole territory of the EU on the basis of a single insurance premium.
Three of the infringement procedures target the Romanian Government's inability to meet its commitments with regard to combating pollution. As regards air quality monitoring, the European Commission speaks of a "systemic failure".
In Bucharest, the Ministry of the Environment has reacted immediately to the warnings. It has acknowledged the problem and promised to restructure the national air quality monitoring network. A communiqué issued by the ministry reads that, lately, Romania has taken important steps towards modernizing the network and rendering it more effective.
With regard to greenhouse gases, Romania is at least two years behind in terms of compliance, but the ministry says that Bucharest has made significant progress in this field as well, and a new law is currently being drafted .
Romania is not the only country to have received warnings from the European Commission. In total, in July, the European Commission sent 130 such formal notice letters, including to Belgium, Czechia, Estonia, Poland, Portugal, Sweden, Hungary and Spain. Austria, too, has received a reasoned opinion, due to the incompatibility of its law on the indexation of family benefits and family tax credits with EU rules. Such indexation also affects the Romanian citizens working in Austria who contribute to the social security fund.
www.rri.ro
Publicat: 2019-07-26 12:17:00
Vizualizari: 964
Tipareste