Constitutional Court dismisses changes in criminal legislation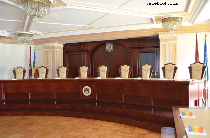 The draft Criminal Code and Code of Criminal Procedure have been sent back to Parliament
The changes operated by Parliament on the Criminal Code and the Code of Criminal Procedure come against the Constitution, the judges of the Constitutional Court decided unanimously on Monday. The reason put forth by the Court was that Parliament did not comply with its obligation to bring these changes in line with previous Constitutional Court rulings. The Constitutional Court had postponed a ruling in this respect 7 times, before reaching Monday's decision.
The changes in question include, among others, a considerable reduction of prescription periods for offences posing high social threats, concurrently with a reduction of special prescription periods to a half. Also halved were the penalties for embezzlement and abuse of office, if offenders cover the damages before a final ruling is passed. Criminal negligence was also decriminalised under the proposed legislation.
As for the Code of Criminal Procedure, changes concerned, among others, the intelligence obtained under national security warrants, which was to no longer be used by courts of general jurisdiction even in corruption, rape or murder cases. Other changes were intended to forbid prosecutors from collecting evidence in a search, if the evidence concerns another offence than the one for which the search warrant has been issued, and to invalidate reports to the authorities against an offender, if the offence is older than one year.
It was President Klaus Iohannis and the Save Romania Union and National Liberal Party in opposition that challenged these changes at the Constitutional Court. They argued that through the bills passed by the parliamentary majority made up of the Social Democratic Party and the Alliance of Liberals and Democrats, more than 300 damaging changes are operated on the Romanian criminal legislation.
Klaus Iohannis welcomed the Court's decision, and urged Parliament to dismiss all the attempted changes of the criminal law and to cancel the changes already operated on the justice laws. In turn, the Liberal Party president Ludovic Orban asks Parliament to reject the new criminal codes as a whole, and if necessary to operate any subsequent adjustments through a new bill, following public consultation and debate. Along the same lines, Save Romania Union requests that police chiefs be appointed based on their merits.
Meanwhile, the leaders of the ruling coalition announced they were working on an emergency government order to improve the legislative framework. The Social Democratic Party and the Alliance of Liberals and Democrats decided to call a special parliamentary session, and PM Viorica Dancila promised that her Cabinet will waste no time.
The Constitutional Court ruling against the modified criminal laws was also covered in international media. Reuters reports that since taking power in 2016, the Social Democratic government has operated a number of legislative and staff changes seen as threats to the independence of the judiciary and causing concern in the European Union, the US State Department, and among thousands of Romanian magistrates, whereas the Venice Commission requested the annulment of these changes.
(translated by: Ana-Maria Popescu)
www.rri.ro
Publicat: 2019-07-30 12:25:00
Vizualizari: 697
Tipareste