A new Senate Speaker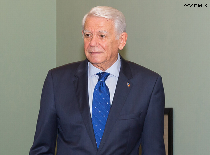 Former Foreign Minister Teodor Melescanu has been appointed Senate Speaker
The Alliance of Liberals and Democrats left the ruling coalition they made together with the Social-Democratic Party, and hence renounced the Senate leadership, which, despite their opposition, has been claimed by the Social-Democrats. Supported by the Social-Democratic Party, Teodor Melescanu, a member of the Alliance of Liberals and Democrats, has been elected Senate Speaker, to the detriment of the Liberal candidate Alina Gorghiu, at the end of a fierce battle between the power and the opposition. Alliance leader Calin Popescu-Tariceanu has already announced his intention of challenging Melescanu's election at the Constitutional Court. On the other hand, Social-Democrat Prime Minister and leader Viorica Dancila congratulated Melescanu, saying his election has proven the Social-Democrats' bona fide commitment towards implementing the governing program started out in 2016. Teodor Melescanu promised he would be a fair Senate Speaker.
"I put my age, experience and integrity in the service of Parliament, my goal being to restore citizens' trust and respect for this institution. During my many and diverse terms in office in the last 30 years I've had the privilege of working with parties on all sides of the political spectrum. It's an experience I will unconditionally devote to the service of the Romanian people. I've served my country all my political life, never the interests of politicians. I am a Romanian first and foremost, before a member of a political party".
Aged 78, Melescanu indeed served on all sides of the political spectrum. Political pundits would call this party-switching. He started out as a Social-Democrat, switched to the Liberals and then became one of the founding members of the Alliance of Liberals and Democrats. Now he seems to have returned to the Social-Democratic Party. As Foreign Minister, his name is tied to the disasters of the presidential election of 2014 and the European Parliament election this year, when thousands of Romanians stood in line for hours waiting to cast their vote. Teodor Melescanu may yet prove useful to the Social-Democratic Party, being able to bring a number of MPs on their side, ahead of next week's crucial vote of confidence, says Liberal Senator, Alina Gorghiu.
"It is an act of defiance, not just to the voters, but to the Social-Democrat as well. The Social-Democratic Party has people who could have filled up this position easily. But of course, what matters most for you is trading votes".
Alina Gorghiu also hailed for the opposition parties' show of solidarity in the Senate Speaker elections, which could ensure the success of a censure motion.
(Translated by V. Palcu)
www.rri.ro
Publicat: 2019-09-11 14:30:00
Vizualizari: 480
Tipareste