Romania's new proposals for European Commissioner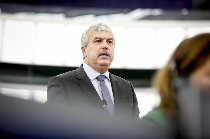 MEP Dan Nica is the new nomination made by the Social Democratic Party PSD for the post of European Commissioner representing Romania.
The unwanted decision of the European Parliament Legal Affairs Committee JURI placed Romania in a delicate situation: the recent rejection by JURI of Rovana Plumb, nominated for the post of European Commissioner for Transports now obliges Romania to come up with another proposal. Meeting on Tuesday evening in Bucharest, the PSD National Executive Committee decided to nominate MEP Dan Nica, a former communications minister, for the post.
The Social Democrats also have a backup nomination Gabriela Ciot, a secretary of state with the Foreign Ministry, in case the EC wants a woman to take that post. The PM Viorica Dancila pointed out that she would also inform the president Klaus Iohannis about the nomination, after clarifying with the head of the EC Ursula von der Leyen the procedure for designating Romania's candidate.
Viorica Dancila: "Dan Nica remains our proposal, because he is the leader of the delegation of Social Democratic MEPs in the Socialists and Democrats Group in the European Parliament. Of course, we have a backup nomination, a woman, Gabriela Ciot, if the case may be. We will do the same as Hungary."
More exactly, if Hungary, whose first candidate was also rejected, makes two new proposals, Romania will do the same. If Hungary makes only one proposal, Romania will also make one proposal.
Discontented with the nomination of both Rovana Plumb and the other two persons, the Liberals, in opposition, called on the PM to no longer make any nomination without consulting president Iohannis and without the vote of the expert committees in Parliament. The president of the National Liberal Party, Ludovic Orban, has drawn attention that there is the risk of a new rejection, and consequently Romania's image will be affected.
Ludovic Orban: "Romania should appoint an impeccable person from the point of view of integrity, who should have the proper background for the post of European Commissioner. If the respective person is accepted by JURI, as he or she meets the integrity criteria, the person will be next heard in the Transport and Tourism Committee TRAN, and he or she may fail to get the vote of MEPs unless having the proper background."
However, the PM Dancila contradicts the Liberal leader saying that Dan Nica is a respected person, and the coordinator of the Industry, Research and Energy Committee ITRE. As to Gabriela Ciot, the prime minister says she was one of the Romanian officials who actively participated in the events held during Romania's successful presidency of the Council of the EU in the first half of 2019, recommending her as an expert in working with the European institutions and in approaching the issues on the European agenda. (translation by L. Simion)
www.rri.ro
Publicat: 2019-10-02 13:50:00
Vizualizari: 519
Tipareste