RRI Sports club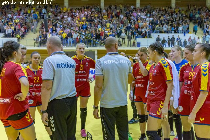 The latest from women's handball
For starters, here is news from women's handball, as Romania's national squad has had an auspicious start in the EURO 2020 qualifiers. In the central Romanian town of Brasov, this past Wednesday, Romania grabbed a 27-24 win against Ukraine, then on Sunday, the national team secured a 25-20 away win against Faeroe Islands.
Romania's Valentina Ardean-Elisei played the last match of her career against Ukraine, as Valentina has officially announced her retirement from the national team. Valentina Ardean-Elisei was born on June 5, 1982 in Focsani. Elisei turned pro when she was first signed up by Universitatea REMIN Deva, a team with which, in 2002, she won the Challenge Cup European trophy. Between 2004 and 2006 Valentina had a stint with Serbian squad Knjaz Miloš. Then she was signed up by Oltchim Ramnicu Valcea, with which she won the Cup Winners' Cup in 2007. We recall that in 2010, Valentina Ardean Elisei was a Champions league finalist, also with Oltchim. Then Valentina played for Cetate Deva, when Oltchim Ramnicu Valcea was dismantled. In 2014 she joined HCM baia Mare, with which she reached as far as the Champions League's quarterfinals. In 2016, Valentina Ardean-Elisei was signed up by Sport Club Municipal Craiova. Valentina has been playing for Gloria Bistrita since 2018. She made her debut with the national team in 1999. With the national team, Valentina Ardean-Elisei won silver at the World Championships in Russia in 2005. Also, she won bronze at the 2010 edition of the European Championship, jointly hosted by Denmark and Norway.
We stay with women's handball, as a press release of CSM Bucharest has shown the team's head-coach, Swedish Tomas Ryde has handed in his resignation because of personal reasons. Assistant coach Adrian Vasile will be taking over. According to the aforementioned press release, Vasile has been with CSM Bucharest since 2014 and has had a significant contribution to CSM's winning the Champions League in 2016. Vasile also contributed to the team's winning all the national trophies between 2014 and 2016.T
Tomas Ryde's decision has occurred a few days ahead of CSM Bucharest's debut game in the Champions League's new edition. On Sunday, CSM travels to Denmark for a fixture against Team Esbjerg, in a game counting towards the League's Group B. Russian side Rostov-Don and Polish team Perla Lublin are also part of Group B.
The other Romanian team playing in the Champions League, SCM Ramnicu Valcea, will have its debut game at home, against German opponents Bietigheim. It is a match counting towards the League's Group C, which also includes Montenegro's Buducnost Podgorica and French team Brest Bretagne.
(Translated by Eugen Nasta)
www.rri.ro
Publicat: 2019-10-02 13:52:00
Vizualizari: 971
Tipareste