Proposals for ministers after interviews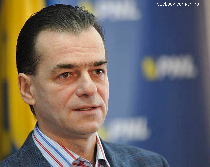 The special parliamentary committees have interviewed all candidates proposed to take ministerial seats in Ludovic Orban's Liberal government.
The Romanian MPs and senators are expected to vote on Monday on the new Liberal government designated to govern Romania until legislative elections are held. After two days of hearings in Parliament's special committees, on Tuesday and Wednesday, of the 16 candidates proposed by the PM designate Ludovic Orban only 13 have received a favorable vote, while 3 have been rejected. The 3 rejected candidates were to lead the ministries of finance, labor and development, that is those ministries that have to manage the country's budget, more precisely big amounts of money necessary for Romania's development. The Liberal leader and PM designate Ludovic Orban stated that he was satisfied with the proposals he made and announced he would maintain his proposals for Monday's vote in Parliament.
Ludovic Orban: "I am very content with the performance of the candidates appointed by the National Liberal Party. They have lived up to expectations, and I must underline that there has been a marathon 3-hour interview as never before, when the candidates were asked tens of questions by MPs."
The vote of the special parliamentary committees is advisory. Nevertheless, the speaker of the Chamber of Deputies, Social Democrat Marcel Ciolacu, reminded of an unwritten rule according to which the candidates that do not get the green light in the committees are generally replaced by the PM designate. According to him, a new round of hearings might be held in due time, to observe the voting schedule established initially.
Marcel Ciolacu: "If the PM designate is willing to do that, both I and the speaker of the Senate, Mr. Teodor Melescanu, are open to hold a new round of hearings to be able to observe the voting deadline of November 4, 2 p.m."
Ludovic Orban's cabinet, which is to replace the Social Democratic government headed by Viorica Dancila, dismissed through a motion of no confidence, needs at least 233 votes in Parliament to be endorsed. In this sense, the PM designate Ludovic Orban has signed early this week accords and political agreements with the Save Romania Union party, the Democratic Union of Ethnic Hungarians' in Romania, the People's Movement Party, the Alliance of Liberals and Democrats and the national minorities group.
In exchange, Pro Romania, a splinter group from the Social Democratic Party PSD, said they were to decide whether to vote or not for the new government, while the PSD stated they would not participate in Monday's plenary meeting vote. Therefore, the question is whether there will be the necessary quorum for the Liberal government to pass. That is why Ludovic Orban said negotiations with MPs would continue up until early next week to make sure MPs will attend Monday's plenary session. (translation by L. Simion)
www.rri.ro
Publicat: 2019-10-31 13:55:00
Vizualizari: 490
Tipareste