RRI Sports club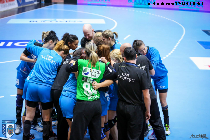 The latest from women's handball
Two more rounds to go in the group stage as part of the Champions League in women's handball. In Group B, CSM are at the top of the table, with 7 points. Russian side Rostov Don are second-placed, with 5 points. Following in descending order are Danish squad team Esbjerg, with 4 points and Polish ream Perla Lublin, with zero points.
In this past Sunday's match in Lublin, CSM thrashed Perla, 28-19. Fresh from her recovery period as a result of a knee injury that had sidelined her since December 2018, Cristina Neagu was on the pitch for CSM. Romanian national team's inside right scored four goals. Cristina Neagu was the world's number one handball player in 2010, 2015, 2016 and 2018. It may very well be that Neagu's contribution could be crucial for CSM Bucharest's run in this year's edition of the Champions League. This coming Sunday CSM plays a home game against Esbjerg, counting towards the League's fifth round.
SCM Ramnicu Valcea is the other Romanian team playing in the Champions League. SCM is 3rd-placed in Group C, with 2 points. French squad Brest Bretagne is at the top of the table, with 8 points, followed by Montenegro's Buducnost Podgorica, with 6. German side Bietigheim is at the bottom of the table. Bietigheim is in dire need of a win in order to secure the 3rd-position that can take the German team all the way up to the competition's main stage.
This coming weekend will see three other Romanian teams proving their mettle in the EHF Cup, actually in the first leg of the third preliminary round. In a home confrontation this coming Saturday, Gloria Bistrita is pitted against another Romanian team, Corona Brasov. Corona is 2nd-placed in the domestic championship, while Gloria is 5th-placed. However, in the championship's latest round this past Wednesday, Gloria Bistrita had no problem securing a 24-19 home win against holders SCM Ramnicu Valcea.
Magura Cisnadie this coming Sunday will play an away fixture against Spanish opponents Rocasa Gran Canaria. The return matches are scheduled on Sunday, November 17.
(Translated by Eugen Nasta)
www.rri.ro
Publicat: 2019-11-06 13:45:00
Vizualizari: 963
Tipareste