PERSONALITY OF THE YEAR 2019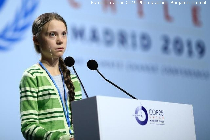 Greta Thunberg is the personality of the year 2019 on RRI
Dear friends, Radio Romania International continued its traditional poling of listeners on short wave, the Internet and Social Media, asking you which person you think left their imprint on the world in a positive way in 2019. The political leaders proposed for the title of 'Personality of the Year 2019' included Pope Francis, Romania's president Klaus Iohannis, the Ukrainian president Volodimir Zelensky, the Chinese president Xi Jinping, the Romanian Prime Minister Ludovic Orban, the prime-ministers of India and Pakistan, Narendra Mody and Imran Khan respectively, the former Italian deputy prime-minister Matteo Salvini, the German Chancellor Angela Merkel, and the Italian senator Liliana Segre, a Holocaust survivor.
The athletes nominated included the former world no. 1 Romanian tennis player Simona Halep, the Canadian tennis player of Romanian descent Bianca Andreescu and the former great Romanian footballer Gheorghe Hagi. The former president of the European Central Bank Mario Draghi, the entrepreneur Elon Musk and the Romanian-born German singer Peter Maffay were also nominated by our listeners.
Based on the proposals made by a majority of respondents to our poll, the personality of the year 2019 has been designated the young Swedish environmental activist on climate change, Greta Thunberg. Our listener Ralf Urbanczyk, from Germany, wrote about her: "No other person has polarized attention this year as Greta Thunberg has. Everybody has talked about her: regular people, scientists and researchers, the media. She's been present in people's lives more than any other person. I appreciate the fact that she can mobilize people and trigger discussions."
www.rri.ro
Publicat: 2020-01-01 12:32:00
Vizualizari: 2646
Tipareste