Sports Club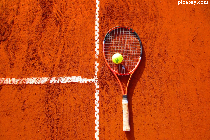 A look at the upcoming sporting events
Romania's tennis player Simona Halep started the year on the third position in the world ranking after Australian Ashley Barty and Karolina Pliskova of the Czech Republic. However, the Romanian went second in an income ranking last year with nearly 7 million dollars mainly thanks to her Wimbledon win. Halep's first tournament this year is the one in Adelaide, Australia, which will be followed by Australian Open.
The Romanian athlete has already made public her goal for 2020, namely an Olympic medal, and in order to achieve this goal she will be focusing on getting in top shape before the aforementioned competition. For this reason the world's number three tennis player will not be able to represent Romania in the Fed Cup, where our players are expected to take on Russia on February 7th and 8th in Cluj, western Romania.
The city had also hosted other Fed Cup games, when Romania took on the Czech Republic and Germany in 2016 and on Canada and Switzerland two years later. In case of a Russian victory, Romania will find itself among the 12 sides to be vying for the champion title of the year in a final tournament hosted by Budapest over April 14th and 19th. We recall that Romania's players had made it to the semifinals of the aforementioned contest in 2019 when they were stopped in their tracks by France. The best Romanian player in that competition was Simona Halep.
(translated by bill)
www.rri.ro
Publicat: 2020-01-08 14:45:00
Vizualizari: 708
Tipareste