Tourism in Bukovina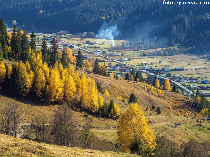 Bukovina is one of Romania's most attractive historical provinces
Bukovina is one of Romania's most attractive historical provinces, with a rich offer for everyone who wants to get to know centuries old traditions, admire superb landscapes, visit old churches, or simply spend their time trekking. Claudiu Bradatan, coordinator of the tourism service with Suceava County Council, told us that Bukovina is famous for its hospitality and its spirituality:
"When you talk about Bukovina, you talk about its eight UNESCO monuments, religious monuments, painted churches and monasteries. You also talk about great landscapes, and also the fact that the authenticity of Bukovina is a major point of attraction. It is a tourist destination for any time of the year. The winter holidays are gone now, but for the upcoming period, January and February, tourists come here for skiing. To this end, we, as a public local administration, have encouraged the building of a ski slope, and we are glad that it finally opened. I am talking about the Rarau slope, which attracted a large number of tourists since it opened in January 2019."
In addition to being an active tourist destination, Bukovina is well known to culture lovers. Here is Claudiu Bradatan:
"There is a reason why we say that Bukovina is a special destination for lovers of culture tourism. In 2017, the city of Suceava, the main gateway to Bukovina, was an Eden destination of excellence for cultural tourism. That means that the city investments on the conservation and renovation side have born fruit. We are talking about modernizing the Bukovina Museum of History, and about giving a new face to the Princely Throne Castle. Generally speaking, the municipality of Suceava has undergone a rebirth as a tourist destination."
For people who begin their Bukovina trip in Suceava, there are a few free tours we can recommend. Here is Claudiu Bradatan, coordinator of the tourism service with Suceava County Council:
"The Suceava National Center for Tourism Promotion and Information, which I coordinate, issues a tourism guide for free tours, pedestrian tours across the city. It is very interesting that these tours were designed at the request of foreign tourists. In the last few years we have increased their number by around 30%. If we were to look at the list of top countries that send tourists to Bukovina, we have Spain in first place, Germany a close second, then Italy, France, and the Republic of Moldova. Tourists appreciate the authenticity of the area, and the hospitality. These are the elements that we continue to rely on, but this is the only way we can stand out in a more and more diversified tourist landscape."
One thing not to be missed in Bukovina are ethnographic museums. As opposed to other areas of Romania, these museums showcase things that one can witness in real life as well. There you can see traditional garb worn by local peasants for church on Sunday, traditional household objects, and century old houses. And, of course, you can meet lots of traditional craftsmen. Here is Claudiu Bradatan:
"Many of the traditional craftsmen that we promote through the Bukovina Cultural Center at fairs at home and abroad have opened interactive workshops for tourists. We, the Center for Tourism Information, when taking part in national and international tourism fairs, always take with us a craftsman to represent the area. They are very important, because they provide a special experience for tourists. From the youngest to the most experienced, they are a fixture at our promotional stands, but not only at fairs. Suceava County Council organizes a traveling fair called 'Made in Bukovina'. It is an event to promote ourselves and the craftsmen in our area."
Considering that the winter holidays are over, it is important that you know that Bukovina has events all year long. You can find interesting things there during any month you visit. Here is Claudiu Bradatan:
"I would recommend each and every Easter event held in Bukovina. One very interesting festival, already in its 11th edition, is the Bukovina Hora, held in mid-May 2020. Another major festival nationally is the Festival of Medieval Art held in the Princely Throne Castle of Suceava. As far as we know, there will be 30,000 visitors for the four days, so that would make it one of the biggest festivals in the country. Also, another very interesting national festival, already in its 25th edition, is the Trout Festival in Ciocanesti. We have some kind of event almost monthly, because we want to make Bukovina a year-round tourist destination."
Bear in mind that Bukovina has no less than 20 nature reserves. The area's natural landscape is complex and has great variety. The Calimani, Rarau, and Giumalau massifs offer natural conditions for trekking, winter sports, and sports fishing. Spa tourism is available in the Dorna depression area. Vatra Dornei, one of the most popular Romanian spas, provides visitors with specialized spa services, focused on cardiovascular conditions, as well as respiratory, neurological, endocrine, and gynecological disorders. These are just some of the reasons for which you should seriously consider visiting one of the most popular areas in Romania.
www.rri.ro
Publicat: 2020-01-09 14:43:00
Vizualizari: 1104
Tipareste