Romania and the Gulf crisis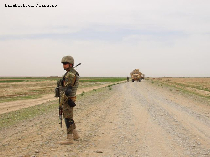 The Middle East situation is closely monitored, says defence minister N. Ciuca
Awaited with great anticipation, Wednesday night's speech by US president Donald Trump dispelled, to some extent, the world's worst fears. A military conflict in the Middle East seems to no longer be imminent, and instead the door is open to negotiations for a new deal with Iran, whose nuclear ambitions are hardly a secret. Donald Trump's statement came at a time when the tensions following the killing of Iranian Gen. Qassem Soleimani in Baghdad by an US drone strike had reached a peak.
On Wednesday, president Trump promised additional economic sanctions against Iran, and pointed out that he will request NATO to get more involved in the region. He also called on the world's major powers, including Russia and China, to walk out of the 2015 nuclear deal with Tehran and to work towards a new agreement. The White House leader concluded his address with the message "The US is ready to embrace peace with all who seek it."
The attacks against American military bases in Iraq that preceded this address however alarmed the international community, including Romania, which decided to temporarily relocate the 14 troops it had deployed in Iraq. In Bucharest, top-level officials called for a calm, diplomatic approach. Here is the foreign minister Bogdan Aurescu:
Bogdan Aurescu: "Romania reiterates its firm call for de-escalation. What we can tell you is that the Romanian troops that are part of the coalition against DAESH have not been affected, which is good news. Also, given that a number of strikes targeted the region of Erbil, where around 180 Romanian nationals live, the Consulate General of Romania in Erbil confirmed that the Romanian citizens there were not affected by these developments."
Roxana Diaconescu has been living there for almost a year. She is 35, studying for a Ph.D. in political sciences and working for an NGO that runs humanitarian projects. This is what she told Radio Romania:
Roxana Diaconescu: "I can't say we have been affected by the Iranian attack, although I live rather close to the military base, which is located within the airport. I haven't heard missiles fired. I hadn't realised what was going on until morning, when I saw the news. It was a normal work day, I went to work, I sent my kid to school. Everybody is now worried about what will happen next, whether the US is going to retaliate or not. For the time being no NGOs are sending their expats out of Iraq."
It is important to ease the fears of the public, to some extent, the Romanian defence minister Nicolae Ciuca said in his turn. He added the situation in the Middle East remains closely monitored, so that relevant institutions may take appropriate measures if necessary.
(translated by: Ana-Maria Popescu)
www.rri.ro
Publicat: 2020-01-09 13:50:00
Vizualizari: 808
Tipareste