Winter Sports in Prahova Valley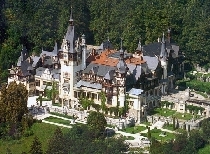 Prahova Valley is the ideal destination for winter sports
If you are inclined to spend your holidays in the mountains, we have the ideal proposal for any season, be it summer or winter. Valea Prahovei is situated around two hours away from Bucharest, with a wide range of ski slopes, and more and more variety in accommodation every year. This is the best developed mountain area in Romania, with resorts that cater to all categories of skiers.
Anda Popa is general secretary with the Prahova Association for the Promotion and Development of Tourism:
"In January, considering this is still the winter season, we recommend the ski slopes in Prahova, beloved by Romanians, and more and more popular with foreign tourists too. This is why we recommend the three resorts dedicated to winter sports. In Prahova we boast over 30 km of slopes. The three resorts are Sinaia, Busteni, and Azuga. There you will find ski lifts, artificial snow installations, athletic accessory rentals, and ski monitors, who are popular even abroad."
Generally speaking, mountains in Romania are ideal for people who want to learn how to ski. However, there are plenty of slopes for advanced skiers too. Here is Anda Popa:
"In Sinaia, for instance, there are 20 slopes, with a total length of some 23 km, with no less than nine ski lift installations. There are also facilities for beginner skiers. Sinaia has ten or more ski schools. There are two areas where ski and snowboard beginners can take lessons, one at the foot of the mountain, the other at the 2000 meter slope. We have seven slopes for beginners and intermediaries, but also three slopes for the most advanced of skiers. Of them, the Carp slope is the steepest in Romania for powder and free riding lovers. There are also places to relax after skiing, with the famous local mulled wine and snacks. The artificial snow installations are turned on if the weather isn't helping, but this is a good season."
Eight km away from Sinaia we find the resort of Busteni, known as the Pearl beneath Caraiman, or the gateway to Bucegi mountains. This resort boasts over 200 trekking trails. Anda Popa told us about it:
"Speaking of Busteni, there are two main trails: Kalinderu 1 and Kalinderu 2. Here we also have an area for beginners, with ski monitors and rental centers. Azuga is another resort beloved by winter sports beginners. We have two traditional ski camps, which bring together kids who want to learn how to ski all winter long. In Azuga we have five slopes, we have a telegondola, two ski lifts, with a total slope length of 7 km. We also have there three famous ski schools, and a variety of events."
Prahova Valley, as a tourism area, has its beginnings in the 19th century, and developed because of Peles Castle, the royal residence built back then in the town of Sinaia by the first king of Romania, Carol I, who sat on the throne between 1866 and 1914. Since then, the interest in mountain towns has been growing, and many of them became resorts. The castle was the summer residence of royalty, it has a small theater hall, with 60 seats. The castle was ahead of its time at the time it was built. For instance, the ceremony hall roof is a movable glass ceiling, and boasts central heating built as early as 1883. Here is Anda Popa:
"Peles Castle is among the top five tourist objectives in Romania. Tourists who book with us have a visit to the castle included in their package. You can visit here any time of the year. Skiers who visit here are invited to get to know Romanian history, to find out about royalty, because the resort of Sinaia itself was created by them for vacationing. We also recommend a visit to the George Enescu Museum in Sinaia, where visitors can find out everything about the great composer. It is said that Romania is the Garden of the Carpathians. We invite you to get to know Prahova while it is covered in snow, to enjoy winter sports, or come here to learn them if you haven't already. Hotels are here year round, along with spa facilities."
Here are just some of the reasons for which you should not miss a vacation in one of the resorts in Prahova Valley. Nothing compares with a few days spent in the hotels and cabins that are all around.
www.rri.ro
Publicat: 2020-01-16 14:06:00
Vizualizari: 2981
Tipareste