Law against special pensions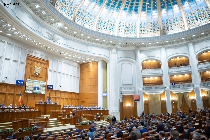 A number of professional categories, including magistrates, were stripped of their special pensions
Barely one month into a year marked by local and parliamentary elections, Romanian politicians are competing in initiatives meant to please the general public. On Tuesday, the Chamber of Deputies in Bucharest held a special session in which they passed a bill scrapping the so-called special pensions, with 247 votes in favour against 21 abstentions.
The clear score however says nothing about the heated debates that preceded the vote. The Liberals, currently in power, and the Social Democrats, who were sent into the opposition at the end of last year, accused each others of being the ones who had introduced such privileges to various professional categories in the first place. The Democratic Union of Ethnic Hungarians in Romania and the Liberal Democrats requested a postponement of the debates, whereas Save Romania Union asked for further restrictions, including a cap on pensions for magistrates.
The final text of the bill does away with the special pensions paid to MPs, to judges and prosecutors, to court clerks and prosecutor's office clerks, to certain categories of civil servants, to diplomats and to Constitutional Court members, and to airline staff. All these categories had so far received pensions that were not based on their previous contributions to pension funds, and which were generally seen as unjustified, unfair and ultimately as a slap in the face of the millions of pensioners struggling to make ends meet.
However, the special retirement benefits to be paid to former military, police and intelligence service personnel were left untouched, and so were the benefits paid to former athletes, artists, scientists and to members of associations in the creative sector.
The leader of the Liberal floor group, Florin Roman, said the special pension cuts would cover part of the costs entailed by a planned increase in child allowances and regular pensions. The president of Save Romania Union, Dan Barna, warned that the document contains elements that may be challenged at the Constitutional Court. He suggested instead, although with no success, a number of amendments that kept the special pensions in place for magistrates, but below a specific cap. In turn, the Social Democrats group leader Alfred Simonis, says that in case the court rules the bill unconstitutional, Parliament will operate the required amendments.
The president of the High Court of Cassation and Justice Alina Corbu warned, shortly after the vote in the Chamber of Deputies, that the bill comes against a previous ruling by the Constitutional Court. She says the special pensions for magistrates are part of a set of guarantees underlying the independence and impartiality of the judiciary.
Previously, the Judicial Inspection Division and various magistrate associations had also claimed that scrapping their special pensions would be a "brutal" violation of the principles of independence and immovability of judges, as defined by the Constitution of Romania and by ECHR rulings.
(translated by: Ana-Maria Popescu)
www.rri.ro
Publicat: 2020-01-29 14:00:00
Vizualizari: 745
Tipareste