The Night of Ideas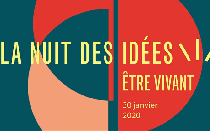 Each year, the French Cultural Institute holds the Night of Ideas event
Each year, on the last Thursday of January, the French Institute in Paris invites French and international cultural and science institutes to celebrate the free circulation of ideas. This year, Romania was present once again, for the fourth time.
On this occasion, the French Institute in Romania held debates, exhibitions, and workshops in Bucharest, Cluj, Iasi, and Timisoara. The French Alliance in Ploiesti also joined in, with a series of debates and workshops. This year, the theme for The Night of Ideas was 'etre vivant', because this has a double meaning, it means both 'being alive' and 'living being'. This ambiguity was intentional, because the debates held during the Night of Ideas are first and foremost an invitation to reflection, and not a simple meeting with experts who claim to have the ultimate truth. They ask questions such as 'what does it mean to be alive?', 'what is our place in the living world?', 'does being alive give us an obligation to action?', and 'how can creative acts help us save the environment?'.
Cristian Neagoe, PR manager for Greenpeace Romania, told us about the event:
"Nature and culture go hand in hand very well, since without nature there would be no culture. And we surely will not have nature left without as much culture as possible. The way in which we educate ourselves about things that are going on right now, I think, is vital for what will be happening as we go forward."
Paraphrasing the saying that every man should be an artist, Suzana Dan, cultural manager for the Scene 9 BRD Residency told us:
"Nowadays we should take into account the fact that every man should be an activist. I think it is very important for every one of us, whether we are artists, or actors, or anything else, to have the courage to have a form of reaction, which is a form of activism when faced with our problems, which we all have. Of course, artists have a great advantage, they are present through a visual medium. Images have a great richness, and a force of communication, making messages forceful, always. I would like for all of us to be reactionary in all sorts of ways."
Mihai Stoica, executive director of the 2Celsius Association, widened the sphere of activism from artists to regular people:
"In addition to artists who are in direct communication with us through their art, there are people who are not artists. We have a photographer friend, but who is also a PhD student in biology at Hamburg University, and studies viruses and how they get transmitted from various hosts to humans. He told us that lately climate change has widened the area in which viruses spread. Now we all know that we are faced with viruses, but he chose to document his research by making photography exhibitions. Is he a scientist or a photographer? Does he have a responsibility to communicate? His photography is generally very poetic, and has no relation to his life as a scientist. But he took on this role, of telling us about viruses, in a way that makes us reflect on climate change."
Cristian Neagoe, PR manager for Greenpeace Romania, added:
"I believe the great problem facing humanity is that it has never seen nature as something that they are a part of, as all our ancestors, up to about a hundred years ago saw it as something to be overcome and exploited. All religions, all beliefs tell us that it is given to us by some higher force to be used, for us to grow and multiply. Plato and Aristotle saw it as something immutable, impossible to destroy, which will always bounce back, and no matter how much we take, it will never run out. Well, we got to the point where we see that it is frail, and that we have multiplied more than we should have. Not only that, but we have become a society of excessive consumption. For Greenpeace, the great problems for humanity are nature and peace. We are trying to preserve both, and we are trying to persuade others to join us."
Present in 55 countries, Greenpeace fights in Romania, the green heart of Europe, to save the forests. The country has two thirds of virgin forests in Europe, which are being cut at an alarming rate, Cristian Neagoe reminded us, and said:
"Art manages to bring closer some things that seem very remote, and makes them accessible. From this point of view, it is different from activism, because activism is a bit more focused, but art just insinuates itself. This is why art and activism together could do wonders for environmental protection."
The Night of Ideas does not mean debates only, ideas may be expressed in other forms too: dance, photography, cartoons, paintings, caricatures, or art installations. One of the themes this year for the Night of Ideas in Romania this year was ecological responsibility: comics as a manifesto, innovative projects in ecology and effective use of resources, the involvement of young people in environmental protection, and civic commitment in the era of climate change.
www.rri.ro
Publicat: 2020-02-11 14:30:00
Vizualizari: 1219
Tipareste