Sports Flash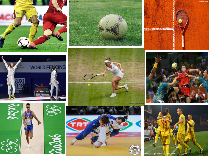 News from tennis, women's handball and ice-hockey
Romania will play Italy in the playoff for the Fed Cup world group. The match will be venued in Romania over April 17-18. Last week Romania lost to Russia 3-2 in Cluj, a match that decided which team advanced to the final tournament. Last year Romania reached the semi-finals, so it a top-seed in the draw. Italy won Group B in Group 1 of Europe-Africa zone, after defeating Austria 3-nil, Estonia 2-1 and Greece 3-nil. The two teams have previously met twice, Italy leading 2-1.
In women's handball, in the EHF Cup quarterfinals, Gloria 2018 Bistrita-Nasaud will play Herning-Ikast Handbold of Denmark, according to the draw hosted by Vienna. The first leg will be played on February 29 or March 1 in Romania, while the return leg will be hosted by Denmark a week later. Goria ranked 2nd in Group C, after Odense Handbold of Denmark. Herning-Ikast won Group D. In case it wins, Gloria will play in the EHF Cup semi-finals against the winner of the match pitting Podravka Vegeta Koprivnica of Crotia against Germany's Thuringer. The semi-finals are scheduled for the first half of April.
In the highlight match of Romania's ice-hockey championship, Corona Brasov on Wednesday won 3-2 against Sport Club Miercurea Ciuc at the end of stoppage time. The match was hosted by the Olympic Ice Rink in Brasov and counted towards both the domestic championship as well as the Erste League. Sport Club led 2-nil with goals scored by Szilard Rokaly and Csanad Fodor, but Corona scored three times in a row, through Daniel Tranca, Jared Brown and Zsombor Molnar. SC Miercurea Ciuc is ranked first in the league tables with 67 points out of 28 games, followed by CSM Galati with 64 points in 23 matches. In Erste League, Dunaujvarosi Acelbikak ranks first with 13 points in 5 matches. Corona is in 4th place, with 9 points, while Sport Club Miercurea Ciuc are in 5th place with 7 points. Both teams have so far played 6 games.
(Translated by V. Palcu)
www.rri.ro
Publicat: 2020-02-13 13:45:00
Vizualizari: 665
Tipareste