The Domogled- Cerna Valley Nature Park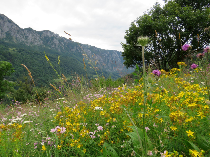 Domogled- Cerna Valley Nature Park is a protected nature area with plenty of of caves, gorges, waterfalls, pastures and old forests
The Domogled- Cerna Valley Nature Park is a protected nature area, situated in the southwest part of Romania. This is a mountain area with over 30 tourism trails, with plenty of of caves, gorges, waterfalls, pastures and old forests, but also plenty of nature reserves. In the Domogled- Cerna Valley Nature Park you will find a large number of attractions, some of them unique, such as thermal water caves. Others are shrouded in mystery, and have many legends that explain how they appeared. Also, the thermal caves in the park are unique in Romania, and are fairly rare in Europe, even in the world. One of these caves that you can visit the Steam Cave, a speleological jewel where steam issues from cracks in the rock. The park has many forms of relief. There is an area that is slightly eroded, giving rise to many phenomena. There are waterfalls, such as the Vanturatoarea Waterfall, with a drop of over 40 meters. The water is aired as the stream of water smashes into a rock ledge. What is spectacular is the fact that tourists can see it from behind. Ionut Papa, a mountain guide and travel blogger, told us that the starting point for visiting this nature park should be Baile Herculane spa:
"There are many reasons to head up to Baile Herculane. One of the best and most important reasons is the the Domogled- Cerna Valley Nature Park, which promotes a large number of tourist trails, with an impressive view of Romania's landscapes and history. In Baile Herculane we find isolated mountain hamlets. Such hamlets are very rare in Romania, and are a dying breed. People can go there and spend time with the locals, and find out about their traditions. There are offers for spare time activities in a dreamlike landscape. There is also the part of treatment and wellness within the spa proper, in hotels that offer such facilities, and tourists can get treatment for a variety of conditions. Tourists also come here simply to relax and take advantage of the beneficial thermal waters, which people have known about for thousands of years."
The hamlets are easy to reach, but the trail itself is a real adventure. Here is Ionut Papa once again:
"If we talk about Inelet Hamlet, preferred by tourists, you get there on a series of wooden stairs, built by the locals, which climbs about 30 meters and are in a very good state of repair. You have to go up these stairs to get to the main path in Inelet Hamlet. They are built of very hard essence wood. The locals care for them constantly, because they are their only connection to the outside world. At the same time, they are protecting the tourists from any risk. It is a bit difficult if you have a fear of heights, though. After you climb the steps and look down, you realize that you are higher than you thought. However, we, mountain guides, help tourists overcome their fears and get there in complete safety."
We went on to ask Ionut Papa what makes the Domogled- Cerna Valley Nature Park such an attractive destination:
"It is very special, both from the point of view of fauna and of flora. In terms of flora, we have here a species of black pine, called the Black Pine of Banat. It is the only one of its kind in Romania. They can only be found in Baile Herculane and a few adjacent areas only. In terms of fauna, here we find bears, wolves, but most importantly this park hosts 45% of the population of butterflies in Romania. If you are passionate about flora, butterflies and nature in general, the Domogled- Cerna Valley Nature Park offers many activities and possibilities."
This park is the only one in the country that encompasses an entire hydrographic basin. This is the basin of the River Cerna and all its tributaries, and Cerna Valley is considered the most beautiful in the Carpathians to boot. It looks like a longitudinal throughway that separates two mountain chains, a 40 km long defile with the river Cerna at the bottom, flanked by rich coniferous and deciduous forests. We asked Ionut Papa, mountain guide, what treks we can go on in the park:
"There are trekking trails of very different degrees. We have long trails, 12 hours long, which are recommended for the people with experience in mountain backpacking. However, we have trails for beginners, who want to discover what a nature outing really means. Depending on the type of tourist, we can recommend what is best for them. None of the trails we recommend are dangerous. Most are low altitude, 1,500 m at the most. As a result, there is no danger of falling or exposure. People come and go guided by us in complete safety."
Ionut Papa told us people leave the area very satisfied, and made extended an invitation at the end:
"We hosted many tourists from Germany, and not only. We had tourists from the US too, some who were going around the world. Once they got to Romania, our area got recommended to them as a must-go place. I accompanied them on the trails, we showed them the good places, we told them about the local traditions and history. They left very satisfied, and convinced that they would come back on vacation. We invite tourists to come to a region of Romania that is really worth visiting. They can practice many activities both in the resort and in the national park. They can go on lots of treks, they can go horse riding, or mountain biking. The offer for entertainment in the area is very rich, and tourists can rely on us, mountain guides, to help them with anything they need to have an unforgettable vacation."
This is an open invitation to visit Baile Herculane spa, and its wonderful surrounding park.
www.rri.ro
Publicat: 2020-07-09 14:00:00
Vizualizari: 2647
Tipareste