Humor in Romanian Literature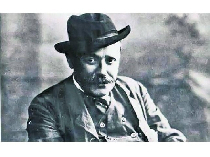 Over the centuries Romanians have found great many opportunities to employ various degrees of humor in their day-to-day lives
Over the centuries Romanians have found great many opportunities to employ various degrees of humor in their day-to-day lives. For instance, there have been cities or regions that became the object of jokes and mockery, so to say. In the second half of the 19th century and all the way through the 20th century, the town of Mizil in Prahova County became the target of satire. At the time Romania was undergoing a thorough process of accelerated modernization, which was hampered at times. Mizil quickly became the symbol of this rash and often unfulfilled modernization.
Mizil as the object of mockery also features in literary works, such as Cilibi Moise's volumes of witty aphorisms. A Bucharest-based peddler of Jewish origins, Moses traded in haberdashery in a trading area in Lipscani, the historical center of Bucharest. Cilibi Moses was illiterate and dictated his jokes to a typist working for a print shop which eventually released his volume in 1870, the year of his death.
Publisher Eugen Istodor documented the humoristic references to Mizil. Here is what he found out about the Jewish peddler.
"Cilibi Moses not only mastered the informal register, but also discovered his witticism could actually be printed. He therefore discovered a printer who started releasing his collection of jokes. One of his famous words of wisdom, passed down over generations, described Mizil as "A large bridge over no water". The description has remained truthful to date. We've recently visited the city, where we indeed found an oversized bridge extending over a fine stream of water, a striking contrast. We can say, therefore, this was a joke".
In the early 20th century, many writers carried over some of the jokes commonly circulated regarding Mizil. In 1900, the great writer I.L. Caragiale, himself born in Prahova County, published his famous sketch, "A Solemn Day". The object was not just Mizil, but its mayor at the time, Leonida Condeescu, whom the author knew personally. Eugen Istodor told us more:
"It is nearly impossible to think of Thermopile without immediately associating Leonidas. The same goes for Mizil, there was no Mizil without Leonida, the same as there was no Leonida without Mizil. What Leonida Condeescu did for his folk is impossible to describe in such a limited context. I would just mention one of his biggest achievements, prompted by his ever burning desire to highlight the importance of Mizil, to raise Mizil to a position of power and see the town prosper"
And now the facts. The problem seems to be a far too ambitious Leonida, determined to solve the historic dilemma of the distance between Ploiesti and Buzau and more importantly, the problem of Mizil's status and identity. Leonida does everything in his power to offer Mizil a status. He even goes to the King for that, whom he tells: "Sire, a lot has been done for other towns and nothing for Mizil. We do not have a county seat, a tribunal, a bishopric, the 32nd regiment, a high school, a medical university, a national theatre or a bridge over the Danube. None of it, Sire! ...We are urging you to give us something. "
Finally, things are starting to move. An express train between Bucharest and Berlin, via Breslau is introduced. Leonida takes a look at the initial itinerary and notices that the time when the train stops in Mizil is not mentioned. He eventully finds out that the train does not stop in Mizil at all. After a year of efforts, the mayor finally obtains something. On May 1st, 1900, train no. 5 from Bucharest to Berlin and train no. 6 from Berlin to Bucharest stop in the railway station in Mizil. "The white little board with red letters, indicating the direction of the two extress trains, should read from now on: Verlin-Bucharest via Breslau-Midil and the other way around, Bucharest-Berlin via Midil-Breslau."
This is a happy ending that consolidated the humoristic fame of Mizil, but which jeopardized the friendship between Caragiale and mayor Leonida Condeescu. The jokes about Mizil became more frequent in the printed press of the time, with famous journalists such as Filip Brunea-Fox entering this game during the entire inter-war period. The avant-garde writer Geo Bogza, himself a talented journalist, wrote about Mizil in an article published in 1938 and entitled "175 minutes in Mizil", after the number of minutes spent by the author in the little town, while waiting for a connection train.
Eugen Istodor: "Geo Bogza is in fact suggesting he got bored to death in Mizil and from a moment on he started to enumerate the things he saw and did there. Here is minute 20: Going back to the square, on foot. A wooden fence. Minute 23 : Getting to the middle of the square. Doing nothing. It is like you see Geo Bogza standing still for one minute. It makes you want to use your stopwatch. "Minute 24 : Mizil ! Minute 26 : A dog passes by. Minute 27 : I am in Mizil. At minute 31, the dog that he had seen passing earlier, at minute 26, passes again, looking bored. "
The jokes about Mizil are in fact an irony at a too ambitious provincial town, which tries to become more important than allowed by its real status. In time, the place of Mizil was taken, in terms of mockery, by other towns such as Caracal, Vaslui and Focsani.
www.rri.ro
Publicat: 2020-03-21 11:41:00
Vizualizari: 1451
Tipareste