Romania's medical system – under pressure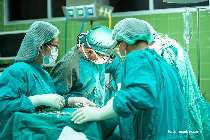 Hospitals face unprecedented situation following resignation of medical staff over rise in coronavirus infections.
More and more doctors, nurses and orderlies are threatening to resign, while many have already done so. The fear of infection and the lack of adequate protective equipment are what lie behind this unprecedented situation facing several hospitals around the country.
The Psychiatry and Neurology Hospital in Brasov, the Romanian Railways Hospital in Timisoara and the Emergency Hospital in Arad have seen a number of resignations among their staff in recent days. Many said they wanted to retire and others, including doctors, nurses, other hospital attendants as well as administrative staff, simply took medical leave, making an extremely complicated situation even more difficult. To cope with the rise in coronavirus patients, the Emergency Hospital in Arad is now hiring staff on 6-month contracts.
While some in the medical profession are abandoning the system because they are scared, there are also those who want to stay on and help. This is the case of a number of nurses and orderlies who had been laid off by the Psychiatry Institute in Socola, in the north-east, due to budget cuts. They are saying they are prepared to work and be reposted to wherever they are needed. Efforts are also being made to address the situation in Suceava, in the north of the country, where hundreds of people have become infected with the new coronavirus, including part of the staff at the biggest hospital in the region, which is now seriously understaffed.
The Romanian president Klaus Iohannis has assured people working in the healthcare sector that the authorities are doing their best to provide the protective equipment they need and appropriate working conditions:
"We know it's difficult, but you are on the front line. We all look to you in hope and place our trust in you. You are the last line of defence between the population and the epidemic. I know it's not easy and we know that unfortunately, even more difficult times lie ahead, but we trust in you, while we, the authorities and politicians, will do all that is necessary to ensure you have the protective equipment you need."
He also said the authorities are targeting their efforts at caring for the most vulnerable people. The experts say the health system is in need of more funding. Heath care spending in Romania in 2017 was 5.2% of GDP, the lowest percentage among the European Union countries and almost half the EU average. (Tr.: CM)
www.rri.ro
Publicat: 2020-04-01 14:00:00
Vizualizari: 615
Tipareste