Olympic Profiles - Football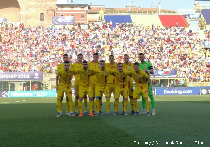 After a break of nearly 60 years, Romanian football will again be represented in the Olympic Games
The feat is owing to the Romanian Under-21 team, which last summer reached the semi-finals of the European Under-21 Championship, hosted by Italy and San Marino. The last time the Romanian football team participated in the Olympic Games was in 1964, when the edition was hosted by Japan, and when our team reached the quarterfinals. This will be Romania's fourth presence in the Olympic football tournament, after the editions of 1924, 1952 and 1964.
Last year's success in Italy marked the biggest achievement for the Romanian under-21 team. It was the result of a long-term effort, which started with Gheorghe Hagi's Football Academy, which trained 10 of the players called up to the squad, including Ianis Hagi, the son of the former football legend. Adding to this effort was the promotion of young players in the First League clubs, which created a rule stipulating that each team should have an under-21 player in its squad for each fixture. The decision sparked a lot of criticism at the time, but eventually proved effective. Equal credit should be given to 39-year-old headcoach Mirel Radoi, who over a short period of time managed to build a solid, flowing and offensive playstyle, one to match the talent of his players. Radoi was subsequently appointed coach of Romania's senior team.
The postponement of the Tokyo Olympics for next year has nevertheless called into question the participation of several players who contributed to Romania's qualification. The International Football Federation ruled, however, that all players born in 1997 will be eligible for the Olympic Games, despite no longer being under 23 years of age next year. We recall the Olympic Games in Tokyo were originally slated for July 24 - August 9, 2020, and have been postponed due to the coronavirus pandemic to July 23 - August 8, 2021.
(Translated by V. Palcu)
www.rri.ro
Publicat: 2020-05-07 13:45:00
Vizualizari: 238
Tipareste