Sports Roundup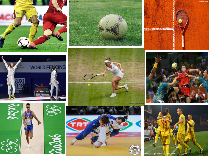 A roundup of the most important sporting events
Universitatea Craiova has signed Italian coach Cristiano Bergodi for a one-year contract. Bergodi will replace Corneliu Papura, who resigned two weeks ago. Bergodi previously coached FC Voluntari over November 2018 - December 2019. In Romania Bergodi has also coached FC National, CFR Cluj, Rapid Bucharest, Politehnica Iasi, Steaua Bucharest and ASA Targu Mures. His record sheet includes a Super Cup won in 2007 with Rapid. In Italy he coached the clubs Imolese, Sassuolo, Modena, Pescara and Brescia.
Romanian football clubs will be able to make 5 substitutions in domestic competitions starting this season. The measure is aimed at protecting footballers affected by the lack of fitness caused by the COVID-19 pandemic, the Romanian Football Federation has announced. The modification has been accepted by the International Football Association Board, the decision-making body in this matter. Thus a team will be able to operate 5 substitutions in a game, but only 3 times during a match. The modification takes effect right away and has factored in the impact the compressed competition schedule might have on players and the other potential weather phenomena.
Around 200 athletes from Romania's Olympic delegations will resume training after May 15 in the training facilities at Snagov and Izvorani, north of Bucharest. The Romanian wrestling and swimming federations will train at Izvorani, while the rowing delegation will train at Snagov. A total of seven crews will represent Romania in Tokyo: the men's quad-scull, the women's lightweight pair, the women's quad-scull, the men's pair, the women's pair, the women's double-scull and the men's double scull. Also worth saying is that Romanian athletes have stopped training in mid-March, when the Ministry of Youth and Sports ordered the immediate vacation of sports facilities against the backdrop of the coronavirus pandemic.
(Translated by V. Palcu)
www.rri.ro
Publicat: 2020-05-11 13:45:00
Vizualizari: 247
Tipareste