Olympic Profiles - Gymnast Monica Rosu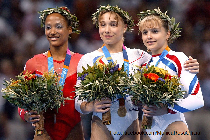 Two-time Olympic medalist Monica Rosu turned 33 on Monday
One of the Romanian athletes who celebrated their birthdays this week was the former gymnast Monica Rosu.
Monica Rosu was born in Bacau. At the age of 4 she took up gymnastics. Over the years her talent didn't go unnoticed, which earned her a selection into Romania's youth team, at the time training in Onesti. At 13 years of age she took part in her first major competition, in Charleroi, Belgium. She competed despite having sustained an ankle injury, and ranked only 12th in the all-around event. Her results were somewhat subpar until 2002, when she came in fourth at the Romanian International Championships. In 2003 she ranked 4th at the World Gymnastics Championships in Anaheim in the vault event, but she won silver in the team event for Romania.
In 2004, at the European Championships in Amsterdam, she won gold in the vault event. Also that summer, at the Athens Olympics, Monica Rosu won the Olympic gold with Romania's team, alongside Cătălina Ponor, Silvia Stroescu, Oana Ban, Daniela Sofronie and Alexandra Eremia. Monica had a solid performance in the vault and parallel bars events. She then won gold in the vault final, with an average score of 9.656. The runner-up that year was the American Annia Hatch, with an average score of 9.481.
An injury sustained in 2005 kept Monica Rosu away from professional competitions, and the athlete was forced to retire at only 19 years of age. She enjoyed a short spell in television, but eventually chose to specialize in sports management.
(Translated by V. Palcu)
www.rri.ro
Publicat: 2020-05-12 13:45:00
Vizualizari: 208
Tipareste