The online collections of Romania's National Art Museum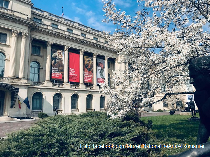 The National Art Museum in Bucharest has given visitors the chance of admiring its exquisite collections online
The National Art Museum of Romania has had a rich online activity in the past month. Virtual thematic tours, courses and workshops for children, free online catalogues, all these activities have brought together over 350 thousand online visitors. Gabriela Tofan, communication officer with the aforementioned museum has shared with us a couple of things about the strategy adopted by the museum during the state of emergency imposed in Romania.
Gabriela Tofan:"We are looking at the figures every now and again and we are simply amazed. Besides the big efforts that we've made we see that people have increasingly opted for the online environment after so many days of home confinement. Since the museum closed its doors, its activity has significantly changed and together with our experts we have been trying to move some of these activities online so that the public, our visitors and even our expert colleagues may not feel its absence in their life. We are glad that people started to communicate on our pages as that wasn't very common before. We used the channels and means made available for us and capitalized on our webpage as well as the social networks, such as Facebook and Instagram. Of course there are other methods employed, we managed to stage a small creative workshop and looked for platforms that can host the publications that we made available for our visitors. Now we are working to make available our publications in eBook and pdf format. We have been testing these educational episodes so that we may see how they will develop in the future and these virtual tours that we stage on a weekly basis gained an extraordinary momentum, something that we didn't expect."
A virtual theme tour with a selection of works from the museum's patrimony is being posted on the institution's Facebook page on Wednesdays. Two tours, which enjoyed a tremendous success with the visitors, were 'Works with Pets' and '200 years since the discovery of the Venus de Milo sculpture'.
Here is again at the microphone Gabriela Tofan.
Gabriela Tofan: "Our museum has so far displayed two types of online tours. The permanent ones are describing the permanent galleries and exhibitions of four museums; besides Romania's National Art Museum, we have on view collections from the Museum of Art Collections, the KH Zambaccian Museum and the Theodor Pallady Museum. But we also have short online tours carried by our Facebook page on a weekly basis. The permanent online tours are available on the Discovery section of our webpage where all the galleries are described. The description is accompanied by this online tour where visitors can surf through every hall and admire these works. These tours had also been available long before the pandemic, but we are glad that they are now enjoying such a tremendous success with our visitors. Like I said, we tried to depict the relation between people and their pets and we found a lot of works from the past centuries that could illustrate this relation. Then we got inspiration from this home confinement and in our attempt to illustrate this idea we found lots of works by Theodor Paladdy and other artists, which suited very well to this theme. All these were some of our attempts to whet the appetite of museum goers. We were also inspired by other house activities, such as reading, the presence of books in our lives. Our museum boasts an enormous depot of works of art but unfortunately these works cannot be displayed with the frequency that we want, so we resorted to this method to show them to the public. This is the positive aspect and we are glad that people appreciated our pages. However, the present circumstances made us to postpone some exhibitions that we planned last year."
One of the events, which was supposed to be launched in this period, was a publication entitled "Corneliu Baba and his disciples", curated by Maria Albani. Until the event gets rescheduled, the museum has posted on its page a selection of the aforementioned publication.
(translated by bill)
www.rri.ro
Publicat: 2020-05-14 23:57:00
Vizualizari: 475
Tipareste