Romanians in the labour market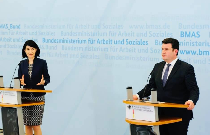 Some of the Romanians who have chosen to continue working in Western European countries during the pandemic are facing a number of problems
Faced with a shortage of workforce for seasonal activities, particularly in the context of the COVID-19 pandemic, farmers as well as other employers in Western Europe look to Romania for solutions, and Romanian authorities have authorised flights taking Romanian workers to those places. The fear of infection did not prevent Romanians from taking jobs in countries like Germany or the UK, where they get better wages than they do at home.
The Romanian minister for labour Violeta Alexandru has recently travelled to Germany to check the working conditions for Romanian seasonal workers, and she discussed their complaints about inadequate working standards and failure to receive their salaries.
All the Romanian nationals employed at a farm in Bornheim, Germany, have received their overdue wages, the Romanian Foreign Ministry announced, after they had recently complained that they had not been paid. Some of them had requested support for repatriation, and the Romanian authorities will also provide assistance to those who chose to stay and look for other jobs in Germany.
"German farms offer decent working conditions, but certainly there are also a number of aspects that need addressing and improving. Apart from the working conditions, we have specifically requested that the Romanian nationals be provided basic health protection during this pandemic period", the Romanian labour minister Violeta Alexandru pointed out. She mentioned that employers will be bound to inform the authorities with respect to the transport, accommodation and working conditions for the Romanian workers.
In turn, Germany intends to introduce a ban on meat processing units hiring foreign workers through intermediaries, after 100 workers, mostly Romanians, got infected with the novel coronavirus. The German authorities promised to increase the number of inspections in meat processing companies.
Meanwhile, the Romanian Foreign Ministry via the Romanian Embassy in the Hague took action with respect to 270 Romanian nationals working for a meat processing company in Gelderland province, after 2 of them tested positive for the novel coronavirus.
In related news, many Romanian workers are trying to return from Western European states to their home country, which is why checkpoints on Romania's western border have been overcrowded lately, and waiting times have been extremely long. In this context, in order to streamline traffic, the Border Police announced opening additional checkpoints on the Hungarian border as of Thursday.
Back in the country, however, the COVID-19 pandemic has left 400,000 people jobless, and some sectors are working in emergency mode.
(translated by: Ana-Maria Popescu)
www.rri.ro
Publicat: 2020-05-22 14:00:00
Vizualizari: 277
Tipareste