Stories from the Romanian Sports World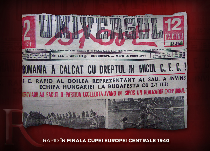 Rapid Bucharest 1940
The most important football competition in the 1930s was the Central European International Cup. Between 1927 and 1940 the competition brought together elevens from Austria, Hungary, Italy, Yugoslavia, Switzerland, Czechoslovakia and Romania.
The first edition attended by a Romanian side was that in 1937 when Venus Bucharest was eliminated in the first round by Hungarian side Ujpest Budapest which claimed wins in both the first and return games. A year later, Ripensia Timisoara secured an aggregate win against Italian side AC Milan, 3-0 and 1-3 in the return match, while another Romanian eleven, Rapid Bucharest outperformed Ujpest Budapest 1-4 in their away game and 4-0 at home.
Ripensia was defeated twice in the quarter finals by Ferencvaros Budapest, 4 - 5 and 1 - 4, while Rapid was stopped in its tracks by Italian side Genoa, which secured a 3-0 home win and lost in Romania 2-1. In order to get a clear picture of the value of the opponents the Romanians were facing, we should mention that Italy became champion in 1938 after defeating Hungary in the finals.
In 1939, Romania was represented in the competition only by Venus Bucharest, which was eliminated in the very first round by Italy's champions Bologna.
A year later, in 1940, 8 sides were vying for the title of the prestigious European competition, three from Yugoslavia, three from Hungary and two from Romania, Venus and Rapid. Venus was eliminated in the first round by BSK Belgrade, which won both games, 1-0 and 3-0.
Rapid was up against Hungaria Budapest in the first round. Rapid's first game was away and the hosts were the first to get the upper hand. However, the Romanians made a comeback and Yugoslav international Vilmos Sipos scored twice. At home, on the ANEF Stadium, the largest in Bucharest at that time with over 20 thousand seats, the Romanian side clinched a 3-0 win allowing sports publications in Bucharest to headline 'Rapid Romped Home against Hungaria Budapest in a Boring Match'.
Rapid's away semifinals match against Grajdanski Zagreb ended nil-all and so did the return game in Bucharest. A tie game was hosted by Subotica in Yugoslavia, and ended one-all. Romanian paper Universul headlined after the game: 'A third draw - 120 minutes of tough lively play and only two goals scored: one by Zimmermanncici and one by Bogdan. Rapid, playing without its best players, and Grajdanski with a complete lineup, have again ended their game in a draw.' Lots were drawn and Rapid became the first Romanian finalist of a European cup.
The competition's finals against the Hungarians from Ferencvaros scheduled for August 1940 was canceled amid huge political tensions between the two countries. Hungary's territorial claims were eventually granted under German pressure through the Second Vienna Arbitration on August 30th 1940.
(translated by bill)
www.rri.ro
Publicat: 2020-05-22 13:45:00
Vizualizari: 953
Tipareste