Ţigăneşti overhaul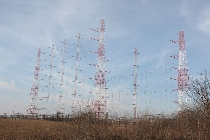 Short-wave station in Ţigăneşti to undergo works
The short-wave station in Ţigăneşti, which transmits Radio Romania International's broadcasts, is undergoing overhaul works on Wednesday, 3rd June, between 8 am and 4 pm Romania time, or between 5 am and 1 pm GMT.
The works will affect the broadcasts in French to Central Africa and the Maghreb, in English to Western Europe and Australia, in German to Western Europe, in Arabic to the Maghreb and in Chinese to continental China.
In this interval, you can listen to our broadcasts via the short-wave station in Galbeni and on the Internet, at rrri.ro, via mobile apps on Google Play and App Store, on Eutelsat 16A or on landline and mobile phones.
www.rri.ro
Publicat: 2020-06-02 18:17:00
Vizualizari: 2763
Tipareste