A Call to Responsibility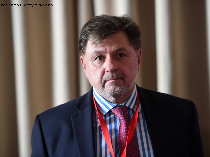 In the past few days, in Romania, the number of new cases of Covid-19 has been on the rise
According to health-care specialists in Romania, the key word these days is 'responsibility', against the background of several restrictions, previously imposed to contain the coronavirus, now being lifted. The head of the 'Victor Babes' Clinic in Timisoara, in western Romania, physician Virgil Musta, has said on Radio Romania that people should be responsible and cautious and drew attention to the fact that the virus is still here and spreading, and in order for us to be properly protected, we need to observe the recommendations made by specialists.
Virgil Musta: "When there is relaxation, it doesn't mean complete relaxation, and therefore no need to observe the rules. On the contrary, because otherwise we will have to impose new restrictions, more or less severe."
In the beginning, when the Covid-19 pandemic just started, specialists believed that warmer weather would curb the spread of the coronavirus, but in the meantime they have changed their opinion. Also on Radio Romania, the president of the Romanian Microbiology Society and Romania's representative at the World Health Organization, doctor Alexandru Rafila, said that most people are not immune to the new coronavirus and, no matter the outdoor temperature, protective and sanitation measures must be observed. Alexandru Rafila has stated that we must learn how to live with this new virus and it's up to any of us to reduce the risk of infection as much as possible.
Alexandru Rafila: "We must do whatever possible to reduce the risk of transmission, which, of course, cannot be completely avoided, but it must be reduced to the minimum possible, depending on every type of activity. People will have to learn to live with this disease, which is an infectious one. Flu is an infectious disease too and, even if we have immunity to the flu, we don't have immunity to this new disease and that is why it is more dangerous."
Physicians insist on the need to wear protective face masks indoors and in crowded areas, even if they are outdoor, to wash our hands with water and soap and keep the a distance of at least 2 meters from the next person. So far, some 22 thousand cases of infection have been confirmed in Romania, and the number of those who have died of Covid-19 is close to 1,500. Of those who have tested positive, some 16 thousand have been cured and discharged from hospital.
The Strategic Communication Group has announced, though, that the trend with regard to new cases of infection has been upward in the past days. The head of the Emergency Situations Department, Raed Arafat, has explained that the trend is determined in keeping with several parameters, which have lately shown a slight increase in the number of new cases of infection with the coronavirus. (M. Ignatescu)
www.rri.ro
Publicat: 2020-06-16 13:50:00
Vizualizari: 308
Tipareste