From Drought to Heavy Rain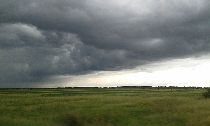 In spring Romania faced one of the severest droughts in the past 50 years and that was followed by heavy downpours, thunderstorms and hail
The drought and the COVID-19 pandemic have turned 2020 into an atypical year in which agriculture will not be able to bring money to the state budget as producers, sellers and farmers have all incurred significant losses - Dragos Frumosu, head of the Trade Union Federation in the Food Industry has told in an interview to Radio Romania. According to him, new price hikes are expected in cereals, fodder, meat and bakery products. The EU countries will be trying to protect their productions to ensure domestic consumption and in this case exports of some products to Romania are likely to diminish. Dragos Frumosu has also mentioned some possible solutions to this situation.
Dragos Frumosu: "Proper management is the only solution in my opinion, we need to build our own state reserves so that we may ensure the necessary products until the next harvests. It is also very important to avoid price fluctuations all throughout the year and I believe all politicians are responsible for the situation Romanian agriculture is facing after 30 years."
The latest hail and thunder storms have also caused serious damage to crops in many regions of Romania. Severe weather has reportedly wreaked havoc on cereals, vegetables, vineyards and fruit trees in north-western Romania.
Beekeepers have called on the Romanian authorities for financial support to compensate for the losses in a country that used to rank fourth in Europe in terms of honey production.
In turn farmers have called for investment programmes to encourage local producers. In an open letter they have explained the Romanian agriculture is facing a very difficult period against the background of the economic crisis caused by the Covid-19 pandemic overlapping the severest drought in the past 30 years. The have come up with a series of immediate measures including financial aid to small farmers and the rehabilitation of the country's irrigation systems.
Last week, Agriculture Minister Adrian Oros voiced his intention to grant farmers drought compensations until autumn; the value of these compensations is to be set after damage assessments have been completed. On Tuesday Oros announced that 1,165,000 hectares of farmland have been affected by drought in Romania. Bloomberg pundits have recently announced that Romania and several other countries in eastern Europe have been affected by the severest drought in the past century.
(translated by bill)
www.rri.ro
Publicat: 2020-06-17 13:50:00
Vizualizari: 314
Tipareste