Fried polenta dishes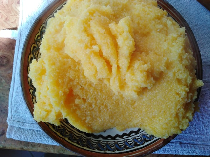 Polenta has been a traditional replacement for bread on Romanians' tables
Made by boiling cornmeal in water with a pinch of salt, polenta has been a traditional replacement for bread on Romanians' tables. If it was not eaten up at one meal, the leftovers would be used the next day, as part of a new dish.
Thin slices of polenta can be dipped in beaten egg, on both sides, and then dredged in grazed cheese. Then, it is fried in a pan with a little butter, until golden. This can be served with sautéed vegetables on the side. You will need two carrots, a small celery root, 200 grams of peas and 200 grams of green beans, and an onion, if you like them. Slice the carrots and celery, cut the onion into thin wedges, then mix with the peas and beans. Fry in a little butter, and add some water or sour cream.
Another dish that uses sliced polenta includes sausages or pork rind. You will need a pan where to fry the sausages and pork rind. Use the same pork fat to fry slices of polenta, about a finger thick, turning them on both sides. Serve the fried polenta and the sausages on the same plate.
Another option involves polenta wrapped in bacon and grilled. This time around, you need to dice the polenta and wrap the pieces into bacon slices. We use a skewer, placing a polenta dice next to a piece of onion or a clove of garlic. Grill the skewered mix and eat hot, with a glass of dry or medium red or white wine.
Grilling is also involved in the cooking of another famed Romanian dish based on polenta, called "bulz." You will need polenta, sharp cheese and sliced sausages or small pieces of ham. After you made the polenta, leave it to cool for a little. Then spread it into a thick layer, cover with a layer of cheese and the slices of sausages or pieces of ham, which you have already fried in a pan. Next, roll the mix into medium-sized balls, keeping the polenta on the outside and the cheese and sausages on the inside. Wrap these balls in tin foil and put them directly on the hot coals to bake. Back in the day, when there was no tin foil to use, the mix was wrapped in clay and also baked on hot coals. This variety is called shepherd's bulz.
(translated by: A. Popescu)
www.rri.ro
Publicat: 2020-06-28 12:17:00
Vizualizari: 226
Tipareste