The healthcare system battling the novel coronavirus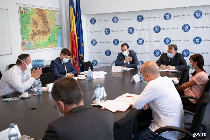 Overworked and underpaid, Romanian healthcare staff involved in treating Covid-19 patients share their discontent.
That the Romanian healthcare system is sub-standard has long been an understatement. The chronic under-financing of the past decades is particularly evident now, when the country is hit by the global crisis caused by the novel coronavirus.
The hospitals are too few to cover the needs of the patients—both those suffering from Covid-19, and from other conditions; the equipment is, more often than not, inadequate, and many doctors and nurses have left the country over the years, to look for decent working conditions abroad.
And while bigger cities, and university centres in particular, fare better in terms of the quality of medical care, in small and medium-sized towns the situation is bordering on the disastrous.
In this context, trade unions in public healthcare are disgruntled with the overwork and underpayment of the personnel involved in treating Covid-19 patients. On Tuesday, PM Ludovic Orban offered guarantees that all the employees in the system will receive sufficient and appropriate equipment. He also promised to consider the option of reducing working hours for the personnel in intensive care wards, who complain of working too long shifts. The PM also believes posting staff could be a solution to the shortage of intensive care personnel.
Ludovic Orban: "We've asked for volunteers, but the answer we have received is not what we expected, so we are going to resort to posting, which is a lawful instrument. For certain categories of personnel, such as anaesthesiologists in intensive care units, the 50% bonus they receive for posting should be in addition to the bonus paid to all intensive care staff, and if necessary, we will make this clear in an executive order."
The salaries of Public Healthcare Directorate doctors will be raised, because these people are at the frontline of the epidemiological triage of Covid-19 patients. The personnel of these directorates and of public ambulance services will be increased. And, according to trade union leader Iulian Pope, technical and support staff will not be overlooked:
Iulian Pope: "This includes administrative staff, nurses, hospital porters and the like, who are still covered by a gradual implementation of the unified salary scheme. We would like these staff categories to receive as early as this year the salary levels originally scheduled for 2022."
In the meantime, until all these problems are solved and the Romanian healthcare system reaches European quality standards, Romanians would be well advised, as an old saying goes, to keep in mind that prevention is better than cure.
(translated by: Ana-Maria Popescu)
www.rri.ro
Publicat: 2020-07-29 13:55:00
Vizualizari: 906
Tipareste