Aubergine dishes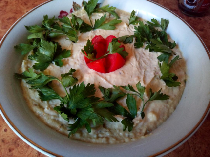 Aubergines are some of the most popular vegetables in Romania during the hot summer months.
Alongside tomatoes and peppers, aubergines are some of the favourite vegetables in Romania during the hot summer months, but they are also used to make preserved spreads for the winter. Whether grilled on an open fire or on the hob, aubergines are easily prepared and can be eaten as a spread or used as filling for other vegetables. Sliced and lightly fried or stuffed and then cooked in the oven and served with various sauces, aubergines are very versatile vegetables to be eaten both as appetizer and as a main dish.
Aubergines were introduced to these parts following the Ottoman expansion to Europe. The Turkish way of preparing aubergines also spread, and the Turkish names of these dishes are still in use today, such as moussaka, which can be made using minced meat.
A vegetable version of moussaka only contains aubergines, potatoes, mushrooms, peppers, onions and sour cream. Here's the recipe: You need 6 medium-sized potatoes, 2 medium-sized aubergines, half a kilo of mushrooms, 2 onions and a bell pepper. Dice the potatoes and brown them gently in oil then place them in an oven dish. Cut the aubergines into rounds and fry them in a little oil until they get brown, then arrange them in a layer on top of the potatoes. Finely cut the mushrooms, onions and the pepper and again cook them in oil, then add on top of the aubergines. Warm the sour cream to make it more liquid, then add on top, followed by a pinch of salt and some finely chopped fresh dill. Put the dish in the oven and cook for some 45 minutes. You can also add some hard cheese towards the end. If you prefer a lighter alternative, replace the sour cream with tomato juice, which goes well with chopped fresh parsley instead of dill.
Another popular aubergine dish that comes from Turkey is imam bayıldı, or stuffed aubergines, as it is known in Romania. The Turkish name literally translates as "the imam fainted", which tells you how delicious this dish is. Here's the recipe: You need 2 large aubergines, 2-3 onions, half a kilo of tomatoes, a head of garlic, 2-3 bell peppers, 2 carrots, a head of celeriac, a hot chili pepper, a bunch of fresh parsley and some olive oil. Cut the stems from the top of the aubergines and cut them lengthwise in half. Blanch them in hot water for a minute or two, remove, sprinkle with salt and allow to drain for half an hour. Meanwhile, slice the onions, carrots, celeriac, peppers, tomatoes and garlic. Fry the onion, then add the rest of the vegetables save the garlic, which is added towards the end. Place the aubergines halves in an oven tray, cut side up. Press with a spoon to make a hollow and spoon the vegetable mixture inside, then sprinkle the finely sliced chili and some chopped parsley on top. Put the tray in the oven and cook at medium heat for half an hour, then transfer to a plate and add some more fresh parsley.
Enjoy!
www.rri.ro
Publicat: 2020-09-12 14:00:00
Vizualizari: 1980
Tipareste