Record number of Covid-19 infections reported globally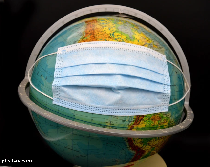 The coronavirus pandemic continues to be a major concern for countries across the globe.
The World Health Organization (WHO) reported on Sunday a record one-day rise in the number of new coronavirus infections at global level, namely 308 thousand in 24 hours alone. India, the US and Brazil reported the biggest increases in infections. The official number of coronavirus infections since the start of the pandemic, stands at around 29 million worldwide, according to WHO. 19 million people have recovered while 918 thousand have died. However, the number of people diagnosed does not mirror the reality. Some countries only test serious cases while other countries, with lower living standards, have limited testing capacity.
Moreover, the much-feared second wave seems to have started. The term is already being used in Austria, where chancellor Sebastian Kurz called on people to strictly observe the rules and limit physical contact. Israel has imposed the country's second lockdown, for at lest three weeks. Israelis must stay within 500 meters of their homes. No more than 10 people can meet indoors while schools and shopping centers will close. However, supermarkets and pharmacies can remain open to the public. Tel Aviv's Ben Gurion airport will remain open. In Britain, the "rule of six" was imposed, meaning that only gatherings attended by people from up to six households are allowed. The rules apply both indoors and outdoors. Schools, workplaces, weddings and funerals are exempted from the rule. New isolation measures have also been imposed in Jakarta, Indonesia, following a surge in the number of infections. There are worries in this respect in the Czech Republic and France as well.
In Romania, authorities plan to extend, for the fourth time, the state of alert. A collective failure by political leaders to heed warnings and prepare for an infectious disease pandemic has transformed "a world at risk" to a "world in disorder", according to a report by the Global Preparedness Monitoring Board (GPMB), carried by Reuters. The GPMB, co-convened by the World Bank and the World Health Organization (WHO), reached the conclusion that world leaders had never before "been so clearly forewarned of the dangers of a devastating pandemic", and yet they had failed to take adequate action. (Translated by Elena Enache)
www.rri.ro
Publicat: 2020-09-14 13:50:00
Vizualizari: 471
Tipareste