Sports flash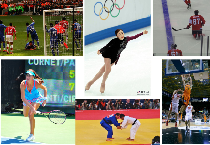 The latest from football and men's basketball
We begin with football. With Romanian head coach Mircea Lucescu at the helm, Dinamo Kyiv has made a leap forward in Champions League's group stage. Wednesday night, the Ukrainians grabbed a precious 2-1 away win against Belgian opponents Gent, in a fixture counting towards the first leg of the competition's play-off stage. The Romanian Ovidiu Hategan was the central referee for the aforementioned fixture. In minute 53, when the score was 1-all, Gent's Ukrainian footballer Roman Bezus got yellow-booked for the second time around, so Hategan eliminated the footballer from the pitch.
The news about Saudi Arabian team Al Hilal, whose head coach is Mircea Lucescu's son, Razvan, is not so good. Wednesday night Al Hilal was eliminated from the Asian Champions League, as the club was officially denied the opportunity to include 13 of its footballers on the official match sheet ahead of Al Hilal's fixture against United Arab Emirates team Al Ahli, because of Al Hilal's footballers who tested positive for Covid-19. Therefore, all fixtures Al Hilal has played so far have been declared null. Under the circumstances, in Group B, the group Al Hilal was part of, United Arab Emirates team Al Ahli and Uzbek squad Pahtakor advanced towards the competition's round of 16.
In news from men's basketball, U-BT Cluj-Napoca has been eliminated from the Champions league's preliminaries. Wednesday night, in the Bulgarian city of Botevgrad, the team from Transylvania sustained a 82 to 75 to 82 defeat by Bosnian opponents Igokea Alexandrovac, in a match counting towards Group C semifinals as part of the Champions League's preliminary round. For U-BT Cluj Napoca, it was the first official game after a six-month break. This coming Friday, Igokea will play a qualifying game in the Champions League's group stage, against Sporting Lisbon. We recall that in the other semifinal, also hosted by the Bulgarian city of Botevgrad, Sporting Lisbon outclassed Swiss opponents Fribourg Olympic, 84 to 78.
A Covid-19 hotbed has been identified with Romania's national judo teams. The number of infection cases on Wednesday counted 22 judokas. Of those who tested positive, 19 are masculine judokas from the seniors and youth teams, while three are women judokas, members of the cadet teams. Three members of the technical staff have also tested positive for Covid-19, among whom the Secretary general of the Romanian Judo federation, Gheorghe Savu.
www.rri.ro
Publicat: 2020-09-24 13:38:00
Vizualizari: 691
Tipareste