More hospital beds for coronavirus patients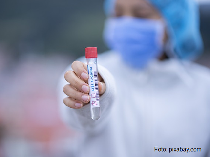 The surge in the number of infections with coronavirus puts huge pressure on Romanian hospitals.
Just like in most European countries, the coronavirus pandemic has been on an upward trend for several weeks in Romania, with the most serious cases being treated in the ICUs. At present, only half of the beds in the ICUs, that is little over one thousand, are equipped with what is needed to treat critically ill patients. Moreover, authorities have announced that almost all ICUs are occupied. This was to be expected, given that ever since the beginning of the month a number of hospitals announced they reached full capacity.
Around 10,000 people infected with the novel coronavirus are being treated in Romanian hospitals at present. Health authorities are looking for solutions that should allow hospitals to take in more coronavirus patients. Because the number of people infected is on the rise, authorities have decided that all county and municipal hospitals across the country, which do not treat coronavirus patients at present, should have a number of beds for this category as well, in case of need. Health Minister Nelu Tataru has explained that each hospital must allocate 10% of the ICU beds and 15% of all other beds to coronavirus patients. He gave assurances that this measure will not trigger the early discharge of any other patients treated in the respective hospital. At the same time, authorities are working on a new treatment policy for infected patients who have no symptoms
Nelu Tătaru: "We are now working on an emergency order under which people with mild or no symptoms are allowed to isolate at home and be monitored by general practitioners, while the Department for Emergency Situations schedules them for investigations in hospital. However, when symptoms appear, these patients are committed to hospital for treatment."
The health official also said that tougher restrictions could be introduced in areas with a big number of infections.
In his turn, PM Ludovic Orban said that the spread of the virus might be slowed down 7 to 10 days after the latest measures are implemented. Romania saw a record number of new infections this week, while the number of intensive care patients and deaths has also been the highest since the start of the pandemic. Moreover, Romania is among the 17 countries of the EU27 marked with red on the map of European countries of high epidemiological risk, made public by the European Centre for Disease Prevention and Control. (Translated by Elena Enache)
www.rri.ro
Publicat: 2020-10-16 14:06:00
Vizualizari: 235
Tipareste