Radio Romania International Sports Club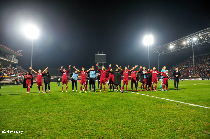 The latest from domestic football
Ukrainian football team Dinamo Kyiv, with the Romanian Mircea Lucescu at the helm, have had their debut game in the Champions League's group stage. The game was not so auspicious for Kyiv, since they sustained a nil-2 home defeat by Juventus from Turin, thanks to Alvaro Morata's goals. A Romanian crew refereed the game, with Ovidiu Hategan in central position, assisted by Octavian Şovre and Sebastian Gheorghe, while Sebastian Colţescu was the fourth official on the pitch.
Matches counting towards Romanian Cup' s 4th round were played this past Wednesday. One of the round's most interesting games was the match pitting 2nd league squad Rapid Bucharest against third-tier opponents Progresul Spartac. Quite surprisingly, the latter team grabbed a 3-2 win after added time. Progresul have therefore advanced to the competition's round of 32, which includes League One teams.
Romanian League One team FC Argeş have reached an agreement with Belgian midfielder Alexander Maes. 28-year old Maes has recently parted company with Belgian team Beerschot, currently 3rd-plalced in Belgium's League One. In the past season, Alexander Maes had 21 caps playing for Beerschot, a team with which Maes secured his comeback to the elite of Belgian football. The contract Maes signed with FC Arges is valid until the end of the championship's ongoing edition, with the possibility of extension.
Holders CFR Cluj on Thursday play their debut game in Europa League's group stage. CFR travel to Bulgaria for a Group A fixture against TSKA Sofia. In the domestic championship's last round, CFR grabbed a 2-1 home win against FC Botoşani. In the Bulgarian championship, TSKA were held to a 1-all draw by Beloe Stara Zagora at home. Also part of Group A are Young Boys Berne and AS Rome. The team from Berne face AS Rome on home turf. Next week, Young Boys Berne travel to Cluj, while AS Rome play a home fixture against TSKA Sofia.
www.rri.ro
Publicat: 2020-10-21 13:45:00
Vizualizari: 565
Tipareste