Sports flash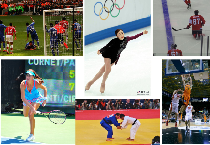 The latest news from basketball, rugby and football.
Basketball. The Turkish manager of the Romanian women's basketball side Ayhan Avci has selected 14 players for the team's upcoming matches against Italy and Denmark as part of their qualifying campaign for next year's European Championship, Eurobasket 2021. The team will first go into training in Bucharest between 4th and 8th November, before 12 of the players will be travelling to the Latvian capital Riga on 9th November where, on neutral ground, Romania will be playing Italy on 13th November and Denmark two days later, on 15th November.
Rugby. Rugby Europe, the administrative body for rugby union in Europe, has officially announced the cancellation of all matches scheduled to take place in November. The decision took into account the evolution of the coronavirus pandemic and the restrictions imposed by the countries whose sides are taking part in competitions. The Romanian side will therefore not be playing any more matches this autumn. In the last leg of the Rugby Europe Championship, Romana were scheduled to play Belgium on 11th November, on the same day as Georgia were supposed to play Russia, while Spain were to play Portugal on the 15th November. Romania were also scheduled to play a friendly match against Russia on 25th October in Moscow.
Football. Further Covid-19 cases have been reported for members of the Romanian football side FCSB, as three new players tested positive, the secretary general of the Professional Football League Justin Ştefan has told Agerpres news agency. The players will isolate until they test negative for the virus. Cristiano Bergodi, the manager of the current League One leaders Universitatea Craiova, believes the fight for the championship title will be influenced by the Covid cases. He also underlined that it is difficult in these conditions to put together a team with two players under the age of 21, in keeping with the regulations of the Romanian Football Federation.
www.rri.ro
Publicat: 2020-10-22 13:45:00
Vizualizari: 462
Tipareste