Sports Roundup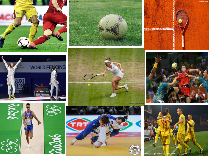 The latest news from Romanian sports.
Let's begin with tennis. Romania's Alexandra Cadanţu on Sunday won the singles title of the tennis tournament in Heraklion, on the Greek island of Crete. In the final, she defeated another Romanian player, Andreea Amalia Roşca, in three sets, 4-6, 6-3, 6-3. 30-year-old Alexandra Cadanţu, who is ranked 267 in the WTA standings, last won a singles title in 2015, at the ITF tournament in Galaţi, eastern Romania. The all-Romanian pair Andreea Amalia Roşca and Ioana Loredana Roşca, seeded first, won the doubles title of the ITF tournament in Heraklion, defeating the Italian pair Melania Delai and Dalila Spiteri in straight sets, 6-1, 6-3. Also in tennis, the Romanian players Oana Georgeta Simion and Oana Gavrilă on Saturday won the doubles title of the ITF tournament in Pazardjik, Bulgaria. They defeated the Bulgarian-US pair Katerina Dimitrova and Isabele Kouzmanov in three sets, 6-7, 6-4, 10-4.
CSM Bucharest are the only team with a maximum number of points in the domestic women's handball championship. In their latest match, they categorically defeated HC Zalău 28-21. Romania's second team playing in the Champions League, namely SCM Râmnicu Vâlcea, where 12 players tested positive for Covid, were only able to play with 7 players, two goal keepers and two junior players. Under the circumstances, SCM Râmnicu Vâlcea lost their first match in the current edition of the women's handball National League, being defeated 31-32 by Minaur Baia Mare. In other fixtures, CS Măgura Cisnădie defeated CSM Galaţi 27-19; CSU Cluj-Napoca lost to CS Activ Prahova Ploieşti 19-24; ACS Crişul Chişineu lost to CS Dacia Mioveni 2012 27-30; SCM Craiova lost to SCM Gloria Buzău 24-25; and HC Dunărea Brăila defeated CS Rapid Bucharest 22-21. CSM Bucharest are in first place in the current standings with 12 points, followed by CS Minaur Baia Mare with 10 points, and SCM Râmnicu Vâlcea, HC Dunărea Brăila, CS Măgura Cisnădie, CS Gloria 2018 Bistriţa-Năsăud and SCM Gloria Buzău, with 9 points each.
And now the latest results from the 9th leg of the domestic football championship. In the opening leg match on Friday, FC Argeş defeated FC Voluntari, 2-1. On Saturday, Academica Clinceni defeated Sepsi Sfântu Gheorghe 2-nil; FC Botoşani lost to UTA Arad 2-3; and FC Hermannstadt lost to Universitatea Craiova nil-1. On Sunday, FC Viitorul Constanţa were declared the winner of the match against CSM Politehnica Iaşi due to defective floodlighting during a match played on the latter's home turf. When the match was suspended, Iaşi were leading 2-1. Also on Sunday, CFR Cluj lost at home against Metan Mediaş, 1-2. The match between Dinamo Bucharest and Astra Giurgiu was postponed for 14th November as the latter side had players testing positive for Covid. Ahead of the leg's final match between Chindia Târgovişte and FCSB on Monday evening, Universitatea Craiova are in the first place in the standings with 24 points, followed by FCSB and CFR Cluj, with 18 points.
www.rri.ro
Publicat: 2020-11-02 13:45:00
Vizualizari: 532
Tipareste