Sports roundup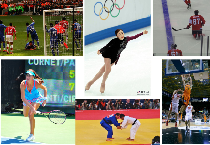 Click here for a roundup of sports news
With 2 matches played in the Euro 2022 qualifiers, Romania's men's handball team ranks second in Group 8. Romania was defeated by Sweden in Gothenburg on Thursday night, 30-33, and won the following match, 36-27 against Montenegro in Baia Mare, on Sunday. On the same day, Sweden beat Kosovo, in Prishtina, 30-16. Sweden is top of the group with 4 points, followed by Romania with 2, Montenegro, also 2 points, and Kosovo with 0 points.
Romania's next game will be on March 10, away from home, against Kosovo. Twenty-four countries will take part in the 2022 European Handball Championship. Defending champions Spain and vice-champions Croatia are already qualified, and so are the host countries Hungary and Slovakia. The top 2 teams in each group and the best 4 teams ranking 3rd in their group will also move on into the final tournament. Romania last took part in a European handball championship in 1996, in Spain, where it came out 9th.
In women's handball, CSM Bucharest outplayed the Slovenian side RK Krim Ljubljana, 25-23, away from home on Saturday night, in the Champions' League Group A. also on Saturday, FTC-Rail Cargo Hungaria was, surprisingly, defeated in Budapest by SG BBM Bietigheim, 35-24, while Rostov-on-Don beat Team Esbjerg, 28-24. The game pitting Vipers Kristiansand against Metz Handball was postponed. After Saturday's leg, CSM Bucharest ranks first in the group with 10 points out of 6 games, followed by Rostov-on-Don with 9p in 5 games, Vipers Kristiansand, 7p in 4 games, Metz Handball, 6p in 5 games, FTC-Rail Cargo Hungaria, 4p in 5 games, Team Esbjerg and RK Krim Mercator Ljubljana - 3p (6 games), and SG BBM Bietigheim, 2p (7 games). CSM Bucharest is next to take on Krim, at home on November 14.
The Romanian player Bernadette Szocs left the Table Tennis World Cup in Weihai (China), after she was defeated in the 8th-finals by China's Meng Chen, 4 - 0. Bernadette Szocs had to self-isolate for 15 days in order to take part in the tournament. She had come out 2nd in the qualifier groups, after losing a match to Hyo-won Suh (South Korea), 2-4, and winning against Dina Meshref (Egypt), 4 – 3.
In Romanian football League One, matches were played this weekend, counting for the 10th round. Top of the standings so far as FCSB and Universitatea Craiova, with 24 points each, followed by CFR Cluj with 21 points. (translated by: A.M. Popescu)
www.rri.ro
Publicat: 2020-11-09 13:45:00
Vizualizari: 479
Tipareste