Romanian healthcare system, overwhelmed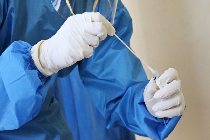 Bucharest has no more intensive care beds for the coronavirus patients. Authorities have announced they will supplement the ICU capacity.
The Romanian healthcare system has been under huge pressure for months, and great efforts have been made to assist all people infected with Covid-19. It is not only the big number of patients that burdens the system, but also a number of systemic problems that have been left unsolved for years.
The intensive care units in Bucharest can no longer take in patients, so a big number of people infected with Covid-19, who are in a serious condition, have been transferred to hospitals in Moldavia, northeastern Romania, by plane. Bucharest has been, for weeks, the Romanian city that reported most coronavirus cases. PM Ludovic Orban has announced that the intensive care capacity in Bucharest will be increased next week by 47 beds, 30 of them at a private hospital and 17 at public hospitals. However, it is not only the capital city that is faced with a shortage of intensive care beds.
There is also another pressing problem - that of insufficient staff. In the south-western county of Mehedinti, which has reported a record number of new infections in the past few days, doctors say there are times when patients in a serious condition are being brought by turn to the ICU, to receive oxygen. Doctors have once again called on people to respect the social distance and wear a mask.
Another measure taken by the authorities is the adoption of an emergency order regarding telemedicine. Health Minister Nelu Tataru has explained that the legal framework had to be modified to allow the provision of remote clinical services, via real-time two-way communication between the patient and the doctor. Thus, according to the authorities, patients will have easier access to medical services and waiting lists will be shorter. Also, telemedicine can limit the spread of the virus by reducing direct interaction, the authorities also say.
The pandemic has also had a devastating impact on chronic patients in Romania, due to additional pressure on a medical system that was already overwhelmed. This is the conclusion of a report dubbed "The impact of the Covid-19 pandemic on the chronic patients' access to healthcare services in Romania". Thus, the number of hospitalisations dropped by 48% in the first half of this year as against the same period of last year. People suffering from HIV – AIDS and diabetes are most affected. Hospitalisation dropped due to the fact that the access of chronic patients to healthcare services was much more difficult in the context of measures taken to contain the spread of the virus. (Translated by Elena Enache)
www.rri.ro
Publicat: 2020-11-20 14:00:00
Vizualizari: 242
Tipareste